The Ultimate South East Fly Fishing Adventure
Nestled in the mountains of western North Carolina is a maze of rhododendron lined spring creeks, plunging mountain streams, and cold, clean rivers making this one of the greatest fly fishing and backpacking regions in the U.S.. These creeks, streams, and rivers offer a variety of fly fishing conditions and are the perfect setting for a beginner to learn to fly fish, and a experienced angler to fine tune their skills. We will start with a three day fishing school and then we will put our skills to use on wild, backcountry trout. After leaving the backcountry we will spend two days volunteering with Trout Unlimited to help conserve and protect this amazing trout habitat. As a reward for our hard work the final days will be decided between catching trophy trout on a private section of the famous Davidson River, and casting flies to hard fighting smallmouth bass from drift boats all with expert guides from Davidson River Outfitters. This 10 night Adventure Academy is perfect for the first time backpacker and fly fisher or the experienced angler looking for a shorter expedition.
Upcoming Trips
| Dates | Cost | Arrive/Depart Location |
| --- | --- | --- |
| Jun 03 - Jun 09, 2020 | $2,650 | Charlotte, NC |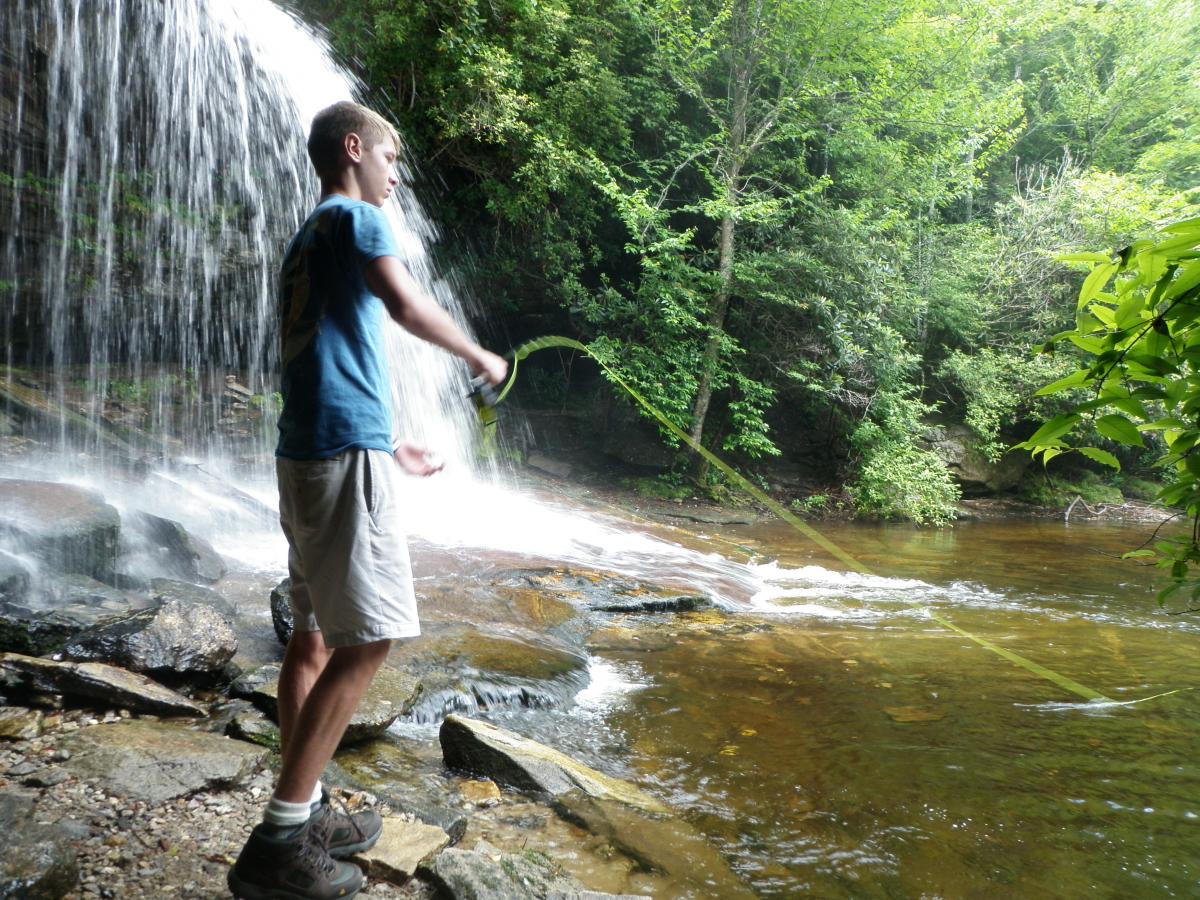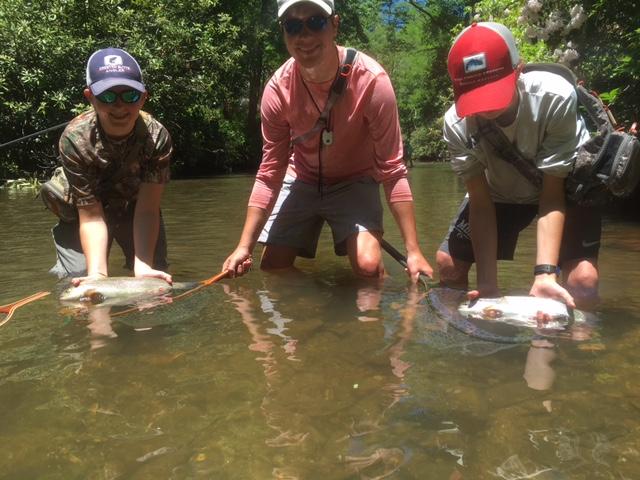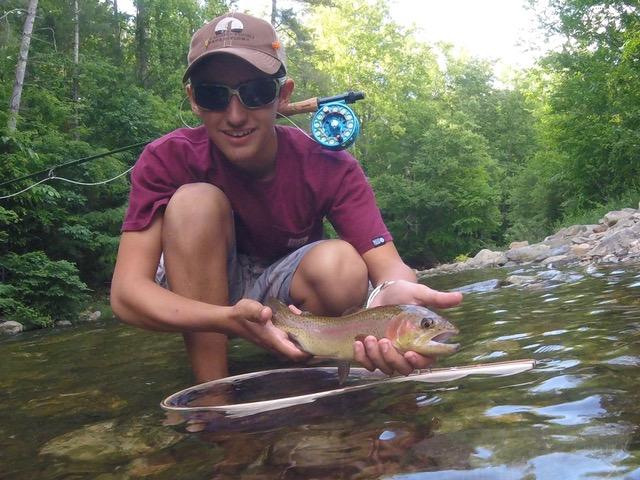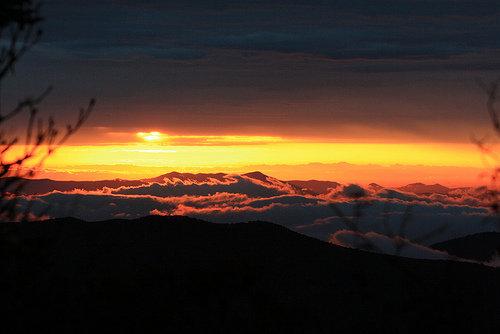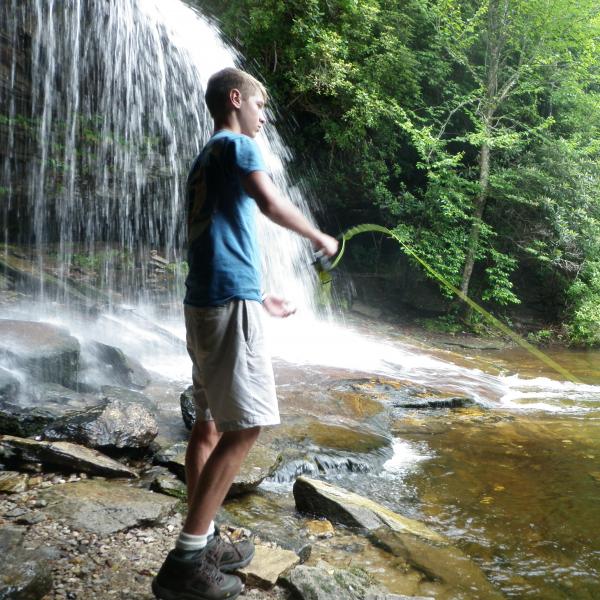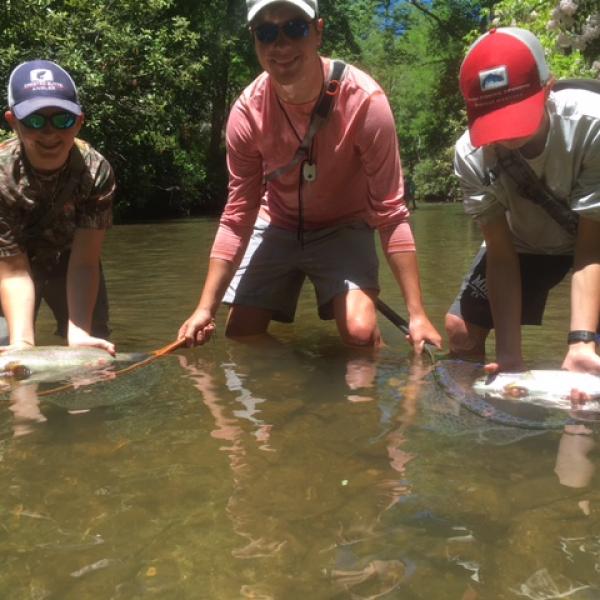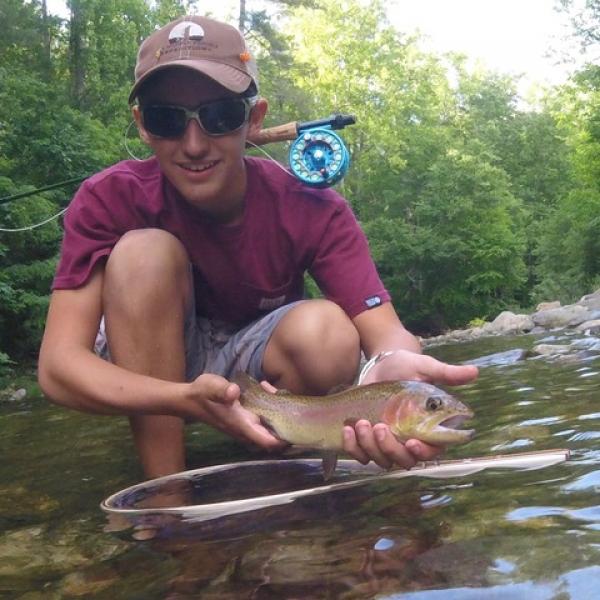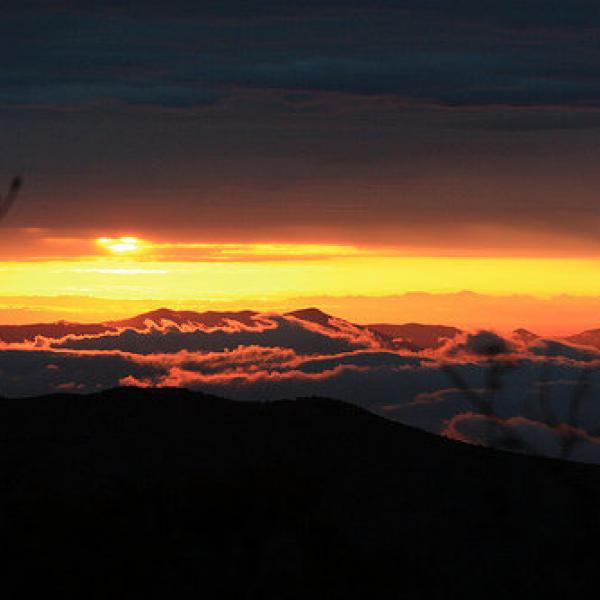 Ages

Entering 7th Grade

Entering 8th Grade

Entering 9th Grade

Entering 10th Grade

Community Service

5 Hours

What to Bring

We have put together a list of all that you will need for a successful and comfortable expedition. We offer a rental program for most of the big ticket items like fly rods, reels, sleeping bags, etc..
Fly Fishing in Dupont state forest while catching trout in the deep pools beneath the spectacular Bridal Veil, Triple, and Hooker falls
Catch Wild Brook Trout while backpacking along remote mountain streams in the backcountry of the Blue Ridge Mountains
Help conserve the habitat of the native Appalachian Brook Trout
Cool off at the natural waterslide "Sliding Rock"
Fly fish for trophy trout on a private section of the Davidson River, ranked by Trout Unlimited as one of the "100 top trout streams in North America."
Day 1-4
After meeting our group at the Charlotte airport we will make our way to our campsite along the Davidson River. On arrival, we will set up our base camp for 3 days of fly fishing school. We will learn everything we need to know about fly fishing including: casting, knot tying, fly selection, and different techniques while fishing the spectacular Little River in Dupont State Forest. At night we will learn to tie our own flies around the campfire. It is hard to find a more beautiful place to learn to fish than the deep, cold pools beneath Bridal Veil, Triple, and Hooker falls in Dupont State Forest.
Day 5-8
Using what we learned during fly fishing school, we will explore the backcountry streams and rivers of the Blue Ridge Mountains. These streams and rivers offer a variety of fishing opportunities from open pools that will reward the new skills of the beginning fly fisher to narrow pocket water choked with rhododendron that will challenge the precision of the most experienced anglers.
Day 9-10
After exiting the backcountry we will head to work, volunteering with local conservation organizations to help conserve and restore the beautiful areas we have had the pleasure of calling home. After building up a sweat we will cool off with a swim at "Sliding Rock", NC's natural waterslide. On our final day we will be rewarded with the opportunity to fish for trophy trout on a private section of the Davidson River, named one of North Americas 100 top trout streams by Trout Unlimited. We will spend our final night together reminiscing about our adventures while enjoying a meal at a local restaurant.