We have our first two days under our belts here in Punta Allen Mexico, and it really could not have gone any better. Arrival day was admittedly a bit of an ordeal. It seemed as though half of the US tried to get into Cancun yesterday. The guys valiantly battled the extremely long customs line, which was taking about 1.5 - 2 hours to navigate. Once we were all through, we made the trek down south to Punta Allen in record time due to the road having been recently repaired. We were treated to an excellent dinner upon our arrival and quickly sought out our beds after an exhausting day of travel.
Yesterday we woke up to near perfection: a largely cloudless sky and intermittent light winds. We gobbled down our pancakes and bacon, split up between 3 boats, and headed out into the bay. The action was heavy right from the start. Two of our boats went out with the goal of warming up our arms and eyes by focusing on bonefish, and the decision paid off. The bones were eager to eat and kept their appetites all day. I quickly lost count of how many bonefish (macabi in Spanish) we brought to the boats, and the guys were just absolutely crushing it.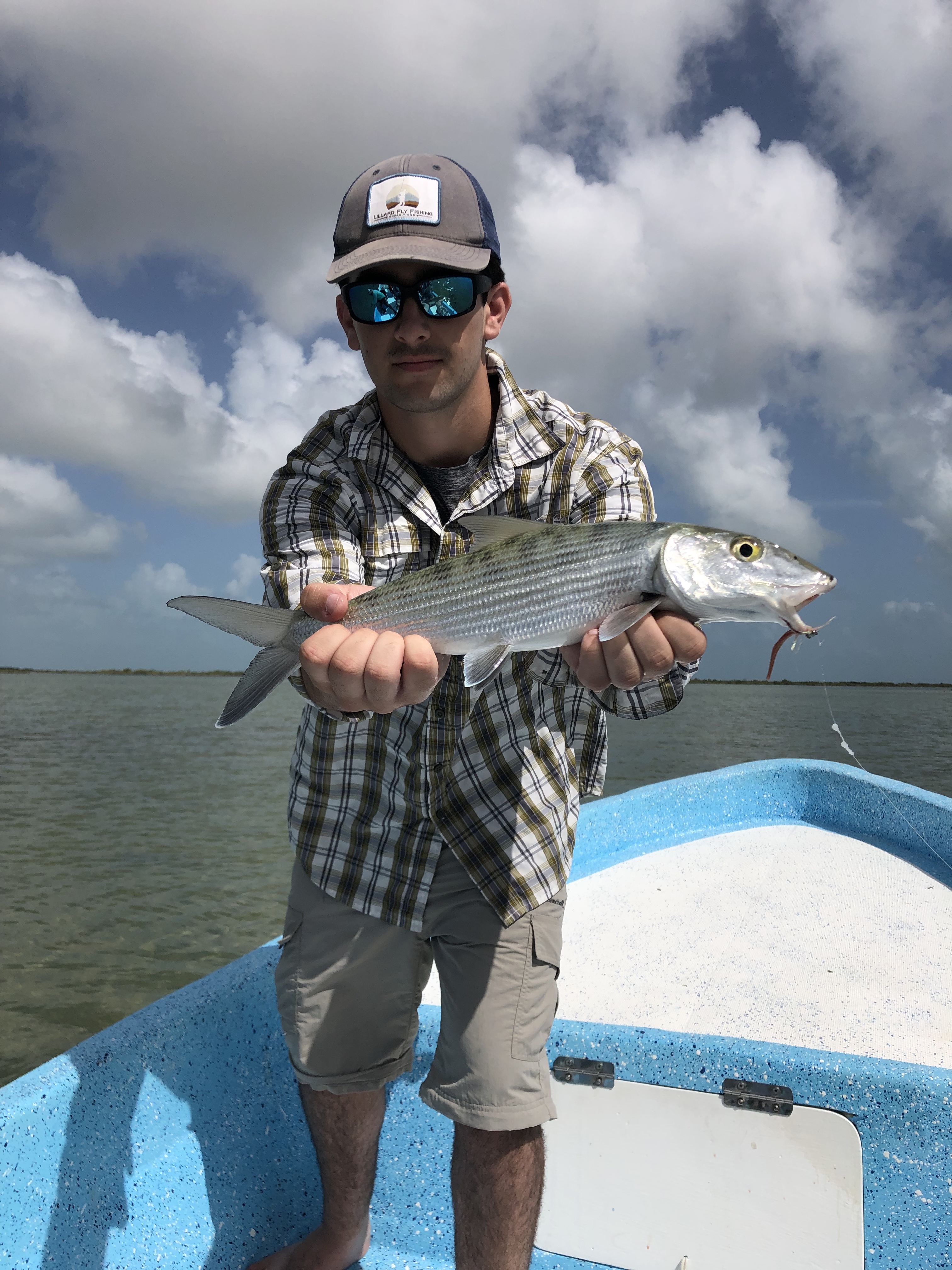 Our third boat had their eyes on the biggest prize; the ever-elusive Palometa, or Permit as we call them further north. They ran into a few, had some good looks and shots, but failed to connect. At that point, they thought it better to go ahead and sink the skunk, and target macabi, just to get some fish in the boat. It was the correct decision. They ran into a sizeable bonefish school, from which they plucked numerous fish, and had it going on for sure. Then, out of the feeding mass of fish, the holy grail appeared; Permit! Patrick had the luck, mojo, skill, or whatever this elusive fish was after and got a bite. Like a seasoned pro, he stuck the hook well, and on day one managed to boat one of these magnificent fish!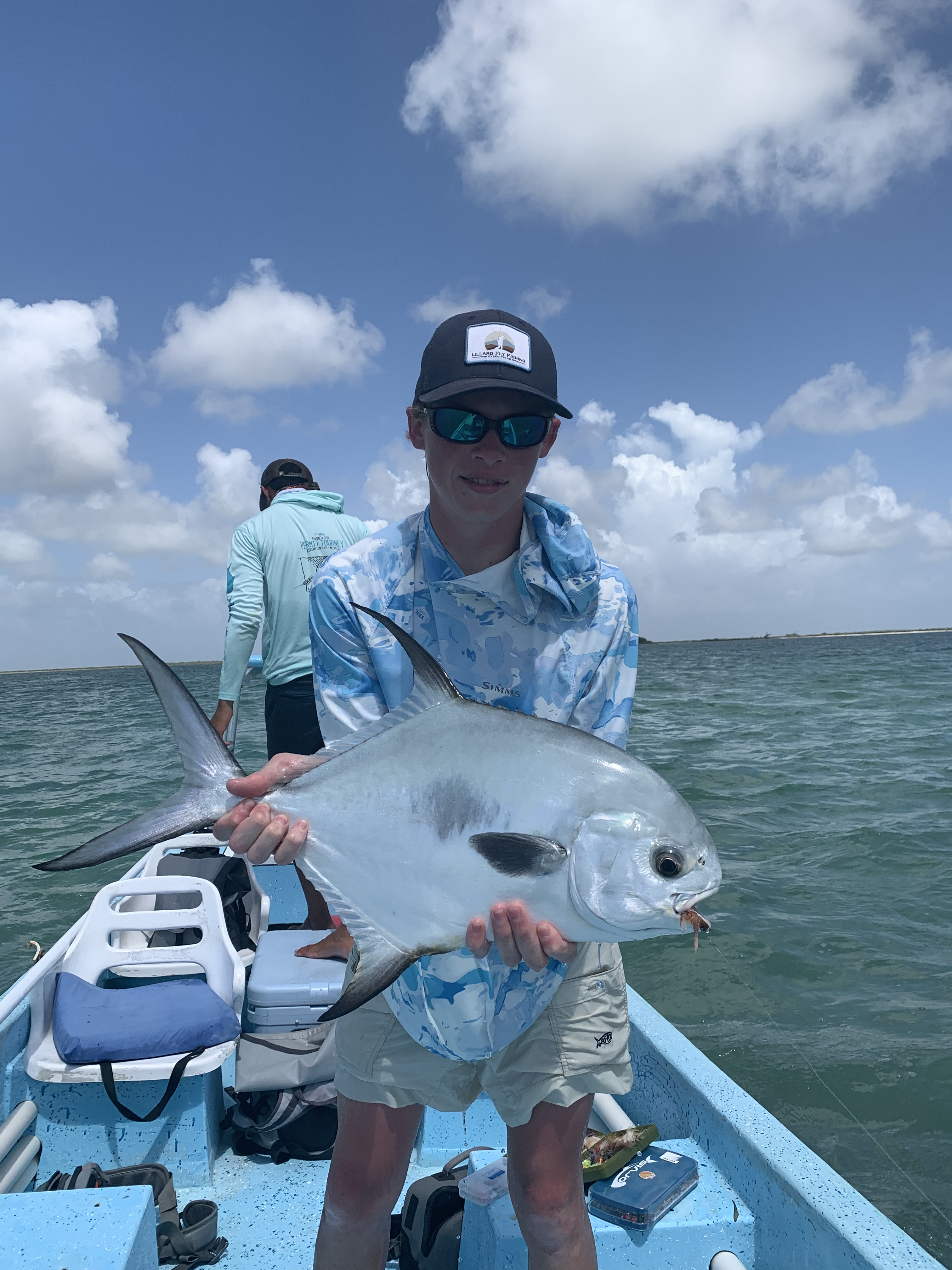 We returned to the lodge around 4 PM and devoured some delicious chicken wings before enjoying a rousing game of botchi ball on the beach. Then lazed around until dinner time. With our full bellies, tired arms, and our excitement rising, we were off to bed waiting with anticipation for what the next day might bring. The weather forecast looked stellar, we knew the fish were biting, and life couldn't be much better!
Today we woke up again to seemingly perfect weather, ate our breakfast, and hastily put out into Ascension Bay. Two of our boats were fortunate enough to run into rolling migratory tarpon and had some great looks. Patrick even managed to boat one of these majestic fish, completing the elusive saltwater grand slam (bonefish, Permit, and Tarpon) for the trip on day 2! Unfortunately, a bit of weather rolled in for the afternoon, with cloud cover and high winds obscuring our ability to sight fish. But, all of the boats still managed to bring in bones, perch, and jacks. We returned to the lodge for fish talk, fresh ceviche, and cold sodas. And now we are taking a well-deserved rest before dinner and another day of stalking fish on the flats of Ascension Bay. Look out for our posts on Instagram and Facebook, and stay tuned for the next update from Mexico. Until then...
Tight Lines!
Charlie Parr