Greetings from Estes Park, CO. After 4 days in the backcountry we are happy to be sitting in the laundry mat waiting for clean cloths and our turn to shower.
The first of our two backpacking trips was a great success. It took us two full days of hiking to reach our final destination, Lawn Lake, but it was well worth the effort. We quickly ate lunch and set up our tents at our campsite just steps from the lake shore and we were out on the water within 30 minutes of our arrival. Hugo landed the first fish from the lake and the rest of the group followed shortly behind him. The threatened Greenback Cutthroat lived up to their reputation for being eager to eat dry flies and their beauty was unmatched.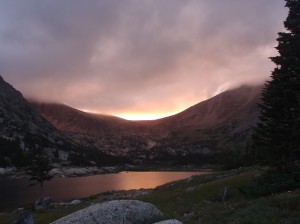 Sunset over Lawn Lake from our campsite" />
The following day we broke into two groups. Five participants joined Charlie for a quick hike up to Crystal Lake to investigate rumors of difficult to catch but huge trout, while the rest of the group stayed behind with me to see how many fish we could catch in a day at Lawn Lake. The Crystal Lake rumors proved to be true. In a full morning of fishing only 3 fish were hooked and one landed. Henry and Quintin were the first to fool one of the behemoth trout, but it was Coulter who managed to land a 22 inch Greenback. The monster was the largest cutthroat I have ever seen pulled out of a high alpine lake. At the same time Todd led the group at Lawn Lake catching 23 trout up to 16 inches before dinner time!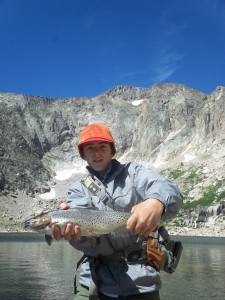 Coulter with his massive Greenback caught in Crystal Lake at over 11,000ft in elevation." />
The great fishing has prepared the group for tomorrows day of volunteering with the park service. Following a day of hard work we plan to head back into town for some pizza and ice cream to celebrate Max's birthday. From there we head back into the backcountry. This time we will enter the west side of the park where we will chase some Colorado River Cutthroat along with some brooks, browns and rainbows. Check back to see how it all goes.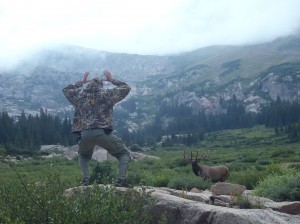 Henry going face to face with a big bull elk" />