After a smooth arrival day on 7/8 our Colorado West Elk Adventure is off to a great start.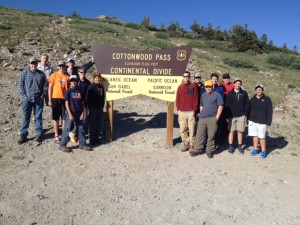 Our group crossing the Continental Divide, ready to catch some trout!" />
We spent the first full day of the trip getting to know eachother while we fished a 1,200 acre private ranch with over 1 mile of stream and two spring fed ponds. The creek proved to be the most productive fishing with everybody hoooking a fish and several of the more experienced fly fishermen catching over 20 fish on the first day.
The ponds on the other hand were a little tougher, but the rewards were worth the effort. Only a handful of fish were fooled from the ponds but all of the ones we did catch were well over 10″. The biggest fish to come out of the pond was a fat 20″ rainbow by Matt, but my favorite was the 14 inch beauty that Jackson caught on the fly he tied the first night of the trip.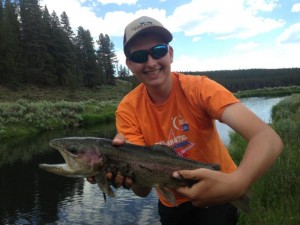 Dan with a huge 20″ rainbow from the spring fed ponds" />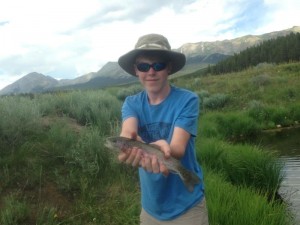 Jackson with a gorgeous trout he caught on a fly he tied the night before" />
After some morning fishing we took advantage of our last chance to shower for a few days. The afternoon was split between a game of frisbee to help us aclimate to the altitude, some backcountry prep, and a little home made ice cream from the small mountain town of Crested Butte.
Tomorrow the real adventure begins as we head into our first backcountry. For three nights we will chase native cutthroat high in the mountains surrounding Crested Butte. Check back on the 14th to see how it went.