The North Carolina Blue Ridge Adventure is about to enter the backcountry for the first time after yesterdays action packed day.
The trip got off to a quick start. On the first morning everybody was up and ready to go by 7. Llewyn and Will helped cook up some pancakes and bacon before we spent the rest of the morning building on our wide range of fly fishing skills.
In the afternoon we put all we learned to use on the trophy water of the Davidson River. Some of the group has been fly fishing for years, for others it was their first time, with the help of guides from Davidson River Outfitters everyone caught some really nice fish.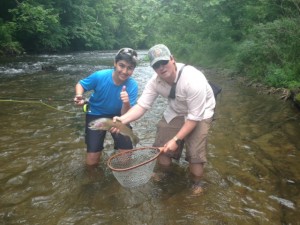 Nick with a beautiful rainbow trout from the Davidson River." />
After some burgers and hotdogs cooked by Beck, Robert, and Nick we gathered around to tie some flies. We all tied some basic flies before Jackson and Andrew taught some people how to tie some of their favorite flies.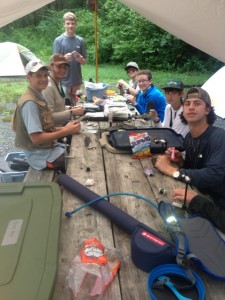 Learning to tie flies before we head into the backcountry" />
Tomorrow Robbie will be the first participant to take on the responsibility of leader of the day as we head into the backcountry for the first time. For two nights we will camp along side a small mountain stream searching for native Southern Appalachian Brook Trout. These beautiful fish have become increasingly rare, but with a little hiking we will find one of their strongholds nestled high in the Blue Ridge Mountains.
We will let you all know how it went when we get back on the 26th!