Greetings from the Davidson River,
Our Blue Ridge Adventure is off to a great start! We have a awesome group of students with a wide variety of fly fishing experience. The fishing has been so good that we are just two days into the trip and everyone has caught a fish over 14 inches!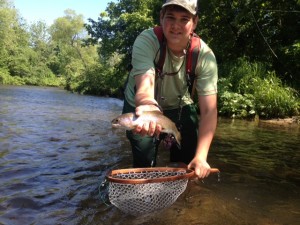 Connor with a nice rainbow from the private section of the Davison River" />
After arriving at our base camp at the Davidson River Campground we went right to work. After we filled up on hamburgers and baked beans we spent our first night learning about stream ecology and studying the bugs that make up the bulk of a trout's diet.
Yesterday morning about half of the group joined Shane in some morning fishing while the rest of the group stayed back with Will to learn or fine tune their casting skills. It didn't take long for the entire group to look like they had been casting a fly rod for years.
We spent yesterday afternoon putting all we had learned about fly casting and stream ecology to use while fishing the famous fly fishing only section of the Davidson River.
This morning we were lucky to be invited by our friends at Davison River Outfitters to fill some openings on their private water. Lets just hope the amazing fishing doesn't spoil us to much. The group split into two groups, half came upstream with me while the other half joined Shane and one of the Davidson River Guides downstream. I was pretty certain it was going to be a good day when Jack and Robert both hooked a 20+ inch trout on their first casts. Within an hour everybody had hooked some big fish, landing them proved to be another issue. Even despite loosing about half the fish we hooked everybody had landed some big fish and is looking forward to getting some revenge when we return at the end of the trip.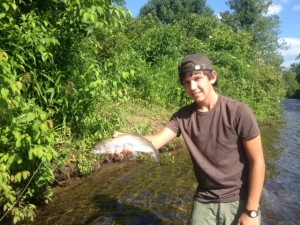 After loosing his first fish of the day to some rocks Jack wasn't about to let this one get away." /> After learning to tie some flies this afternoon the group decided they are eager to get into the backcountry so we have decided to add a night to our first backcountry.   After tacos and fly tying this evening and some prep work in the A.M. we will hit the trail tomorrow afternoon. The group is excited to get of the beaten path in search of some native Southern Appalachian Brook Trout. We will be exiting our first backcountry on the 25th so don't forget to check back to hear how it went!
Tight Lines,
Blue Ridge Adventure 13