The Blue Ridge Adventure is back at the Davidson River Campground after two nights in the backcountry. We could not have asked for a better first trip into the backcountry.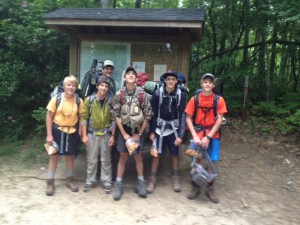 Our group of young anglers ready to hit the trail in search of some native "brookies"" />
After a quick hike into our campsite at the base of a waterfall the clouds opened up for the first rain storm of our trip. Luckily it waited until all of our tents were set up and it didn't last long. Within an hour we were all out on the river catching fish! The strand of southern appalachian brook trout that inhabit this area are remarkably beautiful and increasingly rare. We were glad that everyone in the group understood what a great privilege it is to catch these fish, and handled them with great care.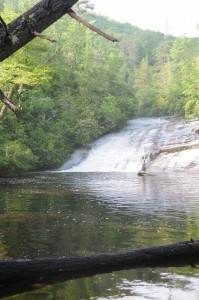 Matt fishing the perfect hole within a stones throw from our backcountry camp." />
After two days of catching brook trout our group of strong hikers made it back to our van in record time. The fact that we had been invited to fish another private section of stream might have had something to do with that. We arrived at a stretch of the West Fork of the French Broad owned by a friend of my grandfather around 11am this morning. Click here to take a look at the amazing piece of river these guys were lucky enough to fish! After a quick lunch we were on the water and catching some fish.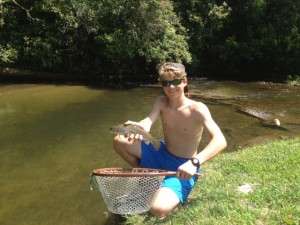 Brawner celebrating his birthday with a nice rainbow trout." />
As I sit hear typing this update the group is setting up camp, separating dirty laundry, and taking showers. As soon as we are done here we will head into town to do some laundry and as far as they know pick up ingredients for tonights dinner. I am pretty sure they will be pleasantly surprised when they find out we are going out for pizza and ice cream to celebrate Brawner's birthday.
Tomorrow we pay thanks for all this great fishing by doing our part to help conserve this beautiful area. Joined by a representative from the local Trout Unlimited we will help clean up a stretch of native brook trout water. Check back to see some photo's tomorrow night!
Tight Lines,
Will