We have returned from our first backcountry trip of the summer!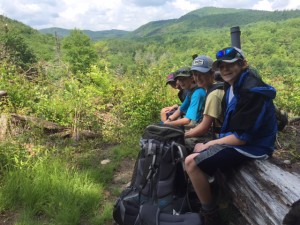 Water break with a view." />
The NC Blue Ridge Adventure journeyed into the mountains early yesterday morning with Brook Trout on the mind. After a fast hike to our campsite we set up our tents right at the base of a beautiful waterfall. Our lines were in the water before lunch. Heavy rains the night before had the water flowing high and a little off color, but that did not stop our group of persistent fly fishermen from catching some stunning brookies. We landed several fish before afternoon storms forced us back to camp for an early lunch. Luckily for us, a break in the weather provided the perfect opportunity for some pre and post dinner fishing at the pools just a stones throw from our campsite. When we had caught our fill of trout we went for a quick swim in our personal swimming hole. The heavy rains slowed the fishing, but didn't keep us from having an awesome time. After falling asleep to the sound of rain hitting our tents we woke up to blue skies and quickly broke down camp. Our group made quick work of the hike back to the van, probably due to the excitement of spending another afternoon on some private water.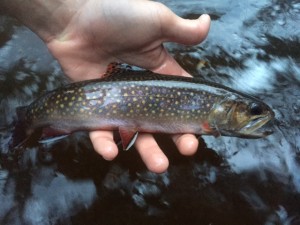 One of the many wild and native Southern Appalachian Brook Trout landed." />
We arrived at the West Fork of the French Broad for lunch and spread out our gear to dry in the sun. Minutes later we were catching some big rainbows and wild browns. Everyone one in the group caught several fish with several 19" fish hitting the nets.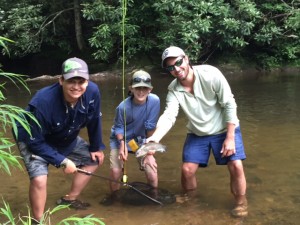 Team effort!" />
Dry flies, nymphs, and streamers all produced fish. We could not have asked for more perfect conditions. In fact, the fishing was so good we decided to eat dinner on the banks of the river and keep fishing until 8pm. It was a long and exciting day and I think it is safe to say we will all sleep well tonight.
Tomorrow morning we will wake up early to get some laundry done before we head out for our community service project. We are all eager to help preserve the beautiful fisheries we have had the chance to enjoy.
Keep your fingers crossed for more weather as perfect as today.
Best,
Will