We are out of the backcountry, cleaned up, re-supplied, and ready to start our next adventure.  I must admit that the fishing over the past few days has been tough at best.  Due to the heavy snowfall we received in April and May here in Colorado, the rivers are still running quite high and fast which means the fish are hunkered down and not really eating.  We cut one day off the front end of our backcountry trip to fish the headwaters of the mighty Colorado river and to get the guys somewhat used to the difficult conditions we would expect to find on our backcountry trip.  We managed to pull in a few fish, but boy did those few fish make us work!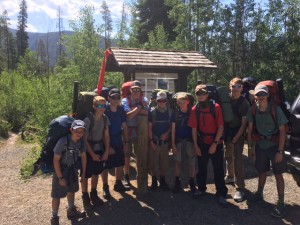 On Friday we set off from the North Inlet trailhead outside of the town of Grand Lake and followed North Inlet creek about 7 miles until we reached our campsite.  Unfortunately the creek was raging and was nigh un-fishable .  So we decided to go on an exploratory mission to attempt to find a hidden high mountain lake in which to ply our trade.  The lake proved to be well hidden and eluded our search, but we were rewarded with stunning views of the surrounding peaks and of Grand and Granby lakes far down valley.  After returning to camp we gorged ourselves on some backcountry burritos and turned in for some much needed sleep.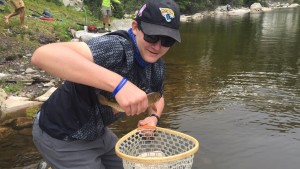 After a nice leisurely morning we split into two separate groups in our attempt to find trout eager to rise to our flies.  One group bush-whacked their way along the creek seeking out holes calm enough to provide feeding opportunities for fish while the other group set out on a hike up and over a 12,000 foot saddle to an absolute gem of a high alpine lake known to be full of eager cutthroat trout.  The first group was rewarded with stunning valley views, warm sunshine, but few fish.  We managed to locate a couple of holes where we were able to sight-fish to some trout, but they were on to us.  Despite throwing everything and the kitchen sink at these fish, we only managed to land one beautiful cutthroat.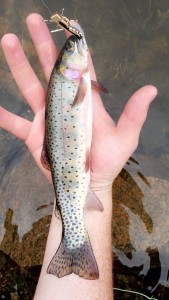 The group that sought out the lake were much more fortunate.  After reaching the lake, the guys quickly began hooking into trout.  Nearly everybody who went to the lake managed to land at least one trout.  Not only was the fishing great, but we were lucky enough to get to observe these rare trout exhibiting their spawning behavior.  Careful not to disturb the spawning beds, or catch any fish showing signs of spawning, we were thrilled to get to watch these fish spawn in a pristine habitat.  The hard days work was rewarded with a delicious meal of backcountry pizza, and then a much needed night of sleep.
Yesterday we hiked out of the backcountry and showered, did laundry, and prepared for our day of community service.  After our service day, we will get to fish some more lakes in the vicinity of Buena Vista before float fishing from rafts on the boisterous Arkansas River.  Then it will be time to bid the mountains adieu, head to Denver, and fly our separate ways home.  Stay tuned for the next update, and until then…
Tight Lines! Charlie Parr