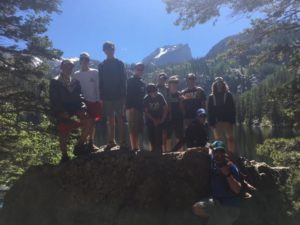 What a trip it has been so far!  It seems like the trip has lasted way longer than the five days since we met the crew at DIA on the 21st, because we have packed so much into those days.  After leaving DIA, we piled into the van and headed west to the shores of Lake Granby for our first stop on the west side of Rocky Mountain National Park.  After getting to know each other, our first full day of the trip saw us head into the park for the fly fishing seminar near the headwaters of the mighty Colorado River.  We spent the morning learning the basics of fly fishing: knot tying, bug identification, and casting.  We were eager to test our newfound skills immediately, but Mother Nature had other plans.  Due to the incredible amount of spring snow we have received here in Colorado, the rivers and streams are at record highs, which is great for whitewater rafting and kayaking, but less than desirable for fly fishing.  We took one look at the swollen and muddy Colorado and decided to try our luck else where.  We took a short hike up to a secluded mountain meadow in search of calmer water, but had little luck tossing our flies into the rushing stream.  Fortunately all was not for nothing as we were able to observe a large bull moose munching on the early summer grass.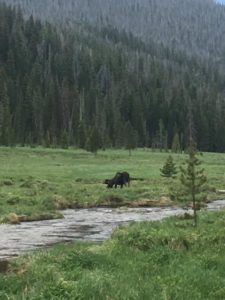 The next day we decided to call an audible and headed over the continental divide to the east side of RMNP in search of high mountain lakes full of greenback cutthroat trout which would be less disturbed by the snowmelt and runoff.  It turned out to be a great decision.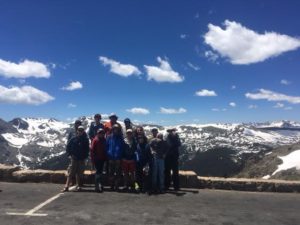 The group Driving over the continental divide" /> For the past two days we have been hiking our way up high into glacier carved valleys to fish some of the most spectacular lakes on the continent.  Our first destination was the pristine Fern lake, where nearly every member of the trip hooked up with the elusive greenback cutthroat, the state fish of Colorado.
Hiking up to Fern Lake" />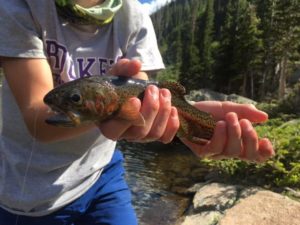 Greenback cutthroat" /> Today we sought out more greenbacks in two secluded alpine lakes known as The Loch and Mills Lake.  These two lakes sit under the highest peaks of RMNP in one of the most dramatic settings imaginable.  Cathedral snow capped mountains soar above the lakes with thousand foot cliffs providing an incredible backdrop for equally incredible fishing.  Pictures simply cannot due these lakes justice.  I am proud to report that our intrepid anglers acquitted themselves well, pulling in dozens of prized cutthroat trout, and absolutely crushing the hikes to and from these high altitude lakes.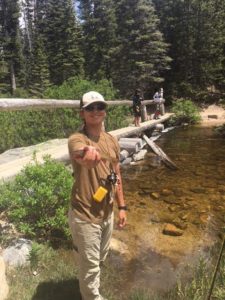 Tomorrow we will be building trails with the trail crew from RMNP for our service project before heading to the Arkansas River valley near Buena Vista Colorado for our capstone float fishing trip.  I know that everyone is excited to give back to this wondrous landscape we have been enjoying for the past few days, and they are certainly looking forward to pursuing trophy trout and whitewater on the Arkansas.  Keep an eye out for our next trip report, as I'm sure we will have some great tales, and even better photos of the fish to come!  Until then…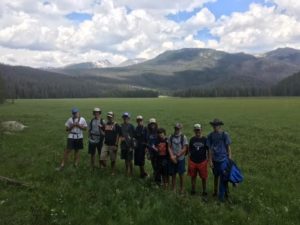 Tight lines! Charlie Parr