This afternoon we made our successful return to civilization after spending four days in the backcountry of Rocky Mountain National Park.  I am proud to report that every member of the group caught and landed multiple fish and are on their way to becoming accomplished anglers.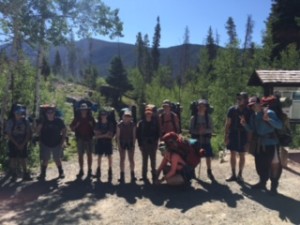 Our first day started with about a 6.5 mile hike in to our first campsite.  We reached our destination in the early afternoon, and after setting up camp we quickly split up and hit the nearby inviting creek.  Though the windy conditions were less than ideal, our hard work was rewarded with several threatened native Colorado river cutthroat.  The most success was found among the trees in what anglers know as pocket water.  While the fishing was slow, it's always fun stalking, sighting, and catching trout in such a pristine and magical setting.  Once we all made it back to camp, we enjoyed our bistro-mac (mac and cheese, steamed broccoli, bacon, and bread crumbs) before getting some much needed shut-eye.
The morning brought another clear sunny day and so we headed out on our day hike up several thousand feet of elevation to some unbelievably picturesque lakes that just so happen to be full of hungry cutthroat eager to rise to the fly.  Though the hike could be seemingly brutal at times due to the unforgiving switchbacks, the destination made it well worth it.  It did not take long at all for the cries of "fish on" to start ringing out from around the lake as people began hooking into the technicolor cutthroat.  We fished hard until the early evening when the encroaching darkness, rumbles in our bellies, and the lures of our sleeping bags brought us down from the lakes.  After a much deserved meal of backcountry pizza we hit the hay with eager anticipation of what the morning would bring.
After our breakfast we split up into two separate groups.  One group elected to stay relatively close to camp and fish and further explore the stream running next to our campsite.  The fishing ranged from forested Pocket water, to rushing mini-canyons, and open meadows with stunning views of the surrounding peaks.  Some of us were luckier than others, but everyone caught more gorgeous cutthroat trout.  We also enjoyed some good old fashioned swimming and lounging in the sun for good measure.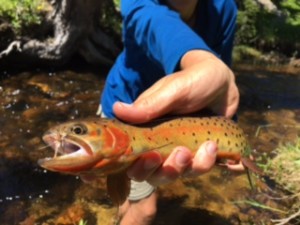 The other group elected to go explore a remote drainage harboring several lakes and a small stream and were rewarded quite handsomely.  After a short but arduous climb through steep forested terrain, we popped out at a scenic alpine lake where we stopped and enjoyed lunch as well as the beautiful views.  After finishing lunch we went to examine the stream and within minutes were pulling out good-sized majestically colored cutthroats.  To our amazement and immense enjoyment the fishing only got better the further we went up the creek.  After passing through a narrow canyon the stream opened up into a series of high alpine meadows with incredible views and even better fishing.  From here we split up once again, with some opting to stay and fish, and others going to explore an even higher lake near tree-line with hopes of monster fish.  Alas, it was not to be.  The lake was dead (no fish), but once again, the scenery did not disappoint.  After leaving the lake, we caught more fish before beginning the descent back to our campsite.  Upon returning and reuniting with our compatriots we enjoyed a hearty meal of chicken pesto tortellini and were regaled with tales of the backcountry life by one of the senior park rangers.  All in all an unbelievable last day in the backcountry.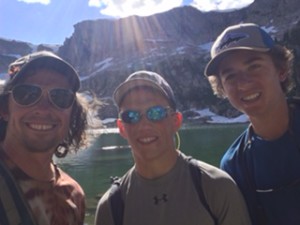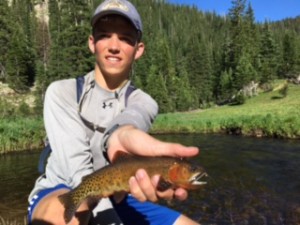 Today we hiked out of the wilderness to shower, do laundry, and resupply.  After a stunning drive over trail ridge road to the east side of the park this evening, we will be doing trail work with the park.  Then it's off for another stint in the backcountry to catch the elusive and endangered greenback cutthroat trout, the only endemic trout to the east side of the continental divide in Colorado.  Look for our next update when we get out of the woods on July 15.  Until then…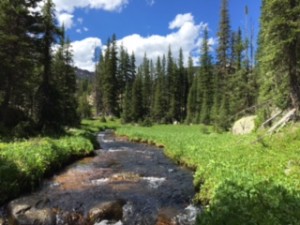 Tight lines! Charlie Parr