7/9/12
Written by Quintin Pollart
After a long night of rain and cold the group awoke to a clear morning atop a hill in the Crystal River Valley. This was our first full day in the backcountry. Once we were all awake we dove into our personal supplies of backcountry food. Once we were fed we quickly packed our daypacks and started our four-mile decent into the Crystal Valley and to the Crystal Mill.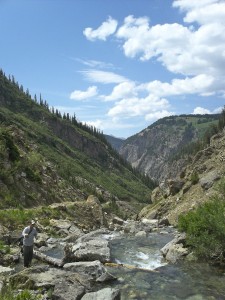 A quick stop to take it all in as we prepare to hike down into Crystal River Canyon" />
We hiked through beautiful canyons and aspen forests for an hour and then found ourselves in the small town of Crystal with only five or six houses and one store. This town seemed lost in time, out of reach of the world around. After a brief stop in Crystal, we continued down to the ancient Crystal Mill.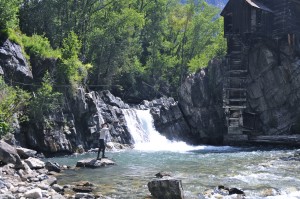 Casting for trout in the shadow of the Crystal Mill" />
We stopped Below the Mill we to fish for the remainder of the morning. Many brook trout were caught as well as a few greenback cutthroat trout. After a very successful day of fishing in the beautiful crystal River we began our long hike back. We passed back through the town of Crystal and dropped off some fresh fish for a local women and then started uphill. After two hours we stopped at the Devil's Punchbowls for a short swim.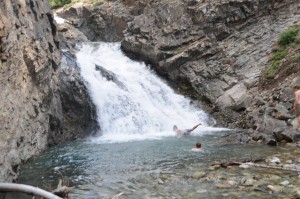 Cooling off in the Devil's Punchbowl" />
When we were done cooling off we finished the hike back up to camp in a few minutes. At the camp we settled in and made a delicious dinner of summer sausage with beans and rice. When cleaned up, we all settled into our sleeping bags in a field near camp to sleep outside and enjoy the clearest night we had yet.
For more information about the Colorado West Elk Adventure Click Here