Q: When did you first learn to fly fish?
Davis: I learned to fly fish when I was about 6 or 7 years old. At first I wasn't really sure I'd get into it; I mean, it's way easier to catch fish on spin gear anyway so why waste all that effort trying to entice them essentially with a flimsy stick? After I learned the motion and began to practice it I realized it had a soothing effect that relieved tension and stress from the mind.
Q: What have you learned from your fly fishing experience?
Davis: My dad was the first person to introduce me to fly fishing and his instruction helped me even beyond the stream. Fly fishing teaches self-reliance, self-confidence and a loving passion for the environment around you. It taught me how to control my emotions, learn from my mistakes, and that patience is key to almost everything in life.
Q: Has your passion for fly fishing had an impact on your view of the importance of conservation.
Davis: My father and my grandfather are both key figures in my passion for fly fishing; both wonderful people who have tutored me in the art of fly fishing since the very beginning. My love for fly fishing garnered an even larger love for the environment, and I started to realize why my grandfather spent hours at his desk every day and why he really had to take that 30 minute phone call on the back nine. Everyday he fights to keep Florida green and partially undeveloped. He inspires me and many other conservationists because of his everyday work ethic, his eloquence in his letters and his charming attitude towards his friends and neighbors.
Q: What was your favorite part of your LFFE experience?
Davis: My favorite part of my LFFE experience was the challenge of learning how to work as a team with group members and learning how to address the group's needs and concerns in front of my own. Working as a team is what has got America as a nation to where it is today and I believe the development of teamwork and leadership ideals is crucial to the success of this nation and the world.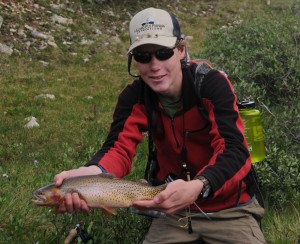 Davis with a gorgeous cutthroat from a high alpine lake during last years West Elk Adventure. I am sure this was up there with the "teamwork" as one of his favorite LFFE moments." />
Q:If you could spend a week fly fishing with anybody who would it be?
Davis: If I could spend a week fly fishing with anybody it would definitely be my dad. The good (and bad) experiences we have shared together over the years are fond memories of mine. The many trips and adventures we've been on together were all great successes, no matter the amount of fish caught or the conditions surrounding us. The most important thing to remember when you're out there having the worst luck of your life in the stream is that you're out there to enjoy yourself, to relax, to get away from it all. There's no reason or excuse to be frustrated; fly fishing is not meant to be a competition played for money, it is an experience like no other and there will be good days and bad days. But the most important thing to remember is where you are and how fortunate you are to be there, as well as to just have fun as you snap off that $2.50 fly in the over hanging willows.