Greetings from a laundry mat in Driggs Idaho. This morning we hiked out of the backcountry for the final time. We are sad that our trip is coming to an end, but excited for all the excitement the final few days will bring.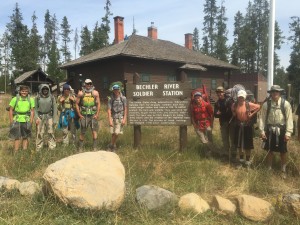 Ready to enter one of the most remote corners of Yellowstone National Park." />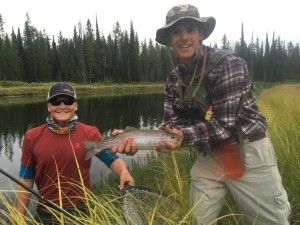 One of dozens of fat rainbows we pulled out of the confluence pool." />
Despite a severe lack of rain, and really low/clear water we had a successful trip up the Bechler River. Our campsite was perfectly situated at a trout filled pool at the confluence of Boundary Creek and the Bechler. Most of our group spent their time catching dozens of trout from this pool, while others hiked upstream into the meadow sections in search of some of the trophy trout that the Bechler is known for. The low and clear water made it easy to see some huge fish, but also made the fish extremely easy to spook. We landed plenty of fish in the upper teens, but were unable to fool any of the big boys.

Evenings provided nonstop dry fly action along with some outstanding sunsets." />
Tomorrow we will fish the Teton River outside of Victor Idaho. It will be the perfect warmup for the following day when we fish the south fork of the Snake River with guides from World Cast Anglers. It is sure to be one of the highlights of the trip.
After a full day on the water with World Cast, we will head over to Jackson, WY for the last few days of the trip. We will spend one day giving back to the amazing areas we were lucky to visit by volunteering with the National Forest Trail Crew before we get our adrenaline pumping during a whitewater float on the Snake River.
Best,
Will