The Colorado Rocky Mountain Explorer, and for that matter the LFFE 2013 summer, is only one day away from completion. The summer has been full of great fishing, but the last few days may have topped it all!
With the help of Orvis Endorsed Sunrise Anglers, the group of 8 teens on our Rocky Mountain Explorer trip set out on LFFE's first ever overnight float fishing expedition. The group met our guides at around 9am and we pushed off with two participants and one guide in each boat. Our guides consisted of Tom Schneider, the owner of Sunrise Anglers (2011 Orvis Guide Service of the Year), Shannon Branham, the head guide for the Orvis Endorsed High Lonesome Ranch/ designer of Orvis's number one selling streamer fly the "Trash Can", Orvis Endorsed Guide Kevin Hurley, and LFFE's founder Will Lillard. We were all pretty confident to say the least.
On day one of our float the cloudless sky made for extremely hot weather that slowed the fishing, but that was no problem for our now seasoned anglers. We adapted our techniques and managed to pull several nice brown trout out of their deep hiding spots.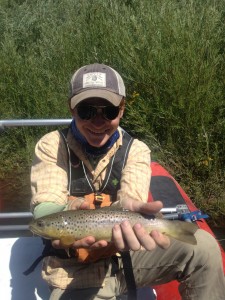 Quintin with one of the nice brown trout we found hiding down deep on day 1 of our float fishing trip." />
By around 4pm we were floating into our camp, complete with a sandy beach and a natural hot springs. We quickly set up camp and enjoyed a snack before heading out for a nice soak. After 12 days of backpacking nothing feels quite as good as watching the sun go down over the river from the comfort of a hot springs. Prying ourselves out out may have been one of the hardest parts of the trip.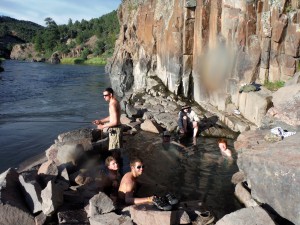 There are not many places you can fish in a 50 degree trout river while standing in a 80 degree hot springs!" />
Luckily we had a chicken fajita feast complete with a peach cobbler made from scratch in our dutch oven to motivating us to leave the hot springs.  After dinner we climbed a small hill where the entire group slept out under the stars and watched the Perseids meteor shower that just so happened to be peaking that night.
The next morning we enjoyed pancakes, bacon, and some OJ before we hit the water with our guides. The fishing started off slow as each boat was trying something different with the hopes of finding that magic fly combo. As we discussed the results over a stream side  lunch the clouds started rolling in and we came to the consensus that streamer fishing would be the ticket for the afternoon. We were right!  Nothing can compare to watching huge brown trout chase down and then annihilate your 3 inch streamer fly.  As it goes with streamer fishing, we didn't land them all, but we did land some huge fish including one 23 inch, two 19 inch, and a bunch of 14-18 inch brown trout. The last 14 days have been one big high-light, but it is hard to top the combination of rafting, big fish, hot springs, and delicious food.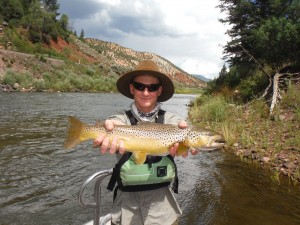 15 Days ago Hugo (of France) had never fly fished in his life. Here he is with the trophy 23″ brown trout that inhaled his streamer!" />
We are sad to see such a great trip and summer come to an end, but we are looking forward to our final banquet dinner. Tonight we head into downtown Silverthorne, CO where we will once more reminisce about all the great stories over some delicious steaks!