This summer we are absolutely thrilled to be offering our first ever international expedition to the Permit capital of the world: Ascension Bay in Mexico.  This unique and exciting trip is perfect for all levels of fly anglers.  Experienced saltwater anglers will appreciate the wide availability of species of fish to target on a daily basis.  Knowledgeable freshwater anglers will find the expansive flats and white sand beaches of Ascension Bay mesmerizing and will no doubt love their first experience of saltwater fly fishing.  And the mangrove sheltered bays and flats of Ascension provide the perfect classroom for the even the novice fly angler to begin learning the tricks of the trade.

In February we led a scouting trip to the sleepy fishing village of Punta Allen, gateway to Ascension Bay, to prepare for this awesome expedition.  My wife Jessica and myself were accompanied by four others who ranged in ability from having never touched a fly rod to your slightly above average fly angler.  The goal was obviously to catch fish, but also to see if the fishing would be up to the standards set by our expeditions and adventures in the United States.  Our expectations were far exceeded and we immediately fell in love.  The following is our trip report which will closely mirror the trip going out this June.
Getting There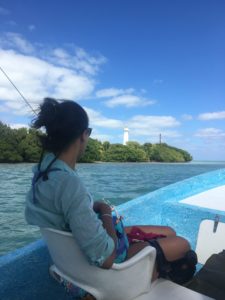 Getting to Punta Allen is surprisingly easy considering how remote the location is.  Flying into Cancun itself is about as simple as can be.  It has a large international Airport that has recently seen major upgrades and new terminal construction in the past year.  Not only is the airport clean, modern, and safe, but has the benefit of hosting direct flights from most major airports in the United States.  Once we arrived in Cancun, The Ascension Bay Lodge provides transport to Punta Allen by several methods.  The preferred way to get to Punta Allen, which we took, is by driving to the resort city of Tulum, then transferring to a boat, and then taking the boat through the Sian Ka'an Biosphere reserve all the way south to the village of Punt Allen.  The boat ride is exhilarating, and you have an opportunity to see much of the wildlife that makes the area so special and unique.  If for some reason all flights do not arrive on time or there are any other delays, the car is able to drive all the way to Punta Allen.  This option isn't bad at all, but does take a little extra time, and can be bumpy depending on when the last time the road was grated.  It also has the bonus of driving by several Mayan archeological sites on the way.
Punta Allen and the lodge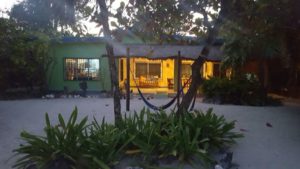 Once we arrived at The Ascension Bay Lodge in Punta Allen, we took the afternoon to mainly relax and get our bearings.  The town itself has only 400 residents and you can walk the length of the town in about 10 minutes.  Some of us passed our first afternoon and evening wade fishing right in front of the lodge, which is only about a hundred feet from the ocean.  Others chilled on the beach, while a few of us played volleyball and beach tennis with some locals and other anglers.  The lodge itself is lovely and unassuming.  It has three bedrooms (with air conditioning!) and two bathrooms as well as a common room/dining room, and a great front porch facing the ocean.  Mari, the lodge host, is an excellent cook who can cater to any dietary needs, and can whip up a mean batch of habanero negro salsa!  Just be sure to ease into the salsa… it can be quite spicy, consider yourself warned.
The Fishing
Mornings start just before sunrise at the lodge when we were served a delicious full breakfast by Mari.  Shortly after breakfast, the guides show up and we pair off and start loading our gear into the boats for a full day of fishing.  Ascension Bay is enormous, and as such, there are many different locations within the bay itself for fishing.  One of the unique features of the bay is that due to its shape and location one can almost always select a location that is protected from the wind.  This is essential for those of us just learning to cast and fish, and very helpful to everybody just dialing in their big saltwater casts.  Typically we spent around 45 minutes getting to our initial fishing locations in the morning, but after that it was almost uninterrupted fishing for the rest of the day.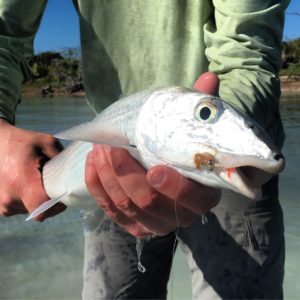 Bonefish are the most popular target in Ascension Bay and for good reason.  They are plentiful and eager to take flies.  For the beginners in our group, the large schools of smaller Bonefish were perfect for learning how to cast to fish, set hooks, and fight these amazingly strong fish.  And once they got the hang of it, they started seeking out the larger solitary fish with great success.  You can easily catch well into the double digits of Bonefish every day on the flats.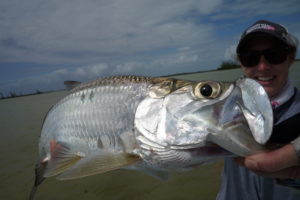 The mangrove forests that surround Ascension Bay provide excellent habitat for juvenile Tarpon and feisty Snook.  One of the aspects of fishing the bay I found so appealing was the ability to quickly shift from one target species and style of fly fishing to the next.  Tired of catching Bonefish and want something bigger?  No problem, just pull out the bigger rod, move a short distance, and you're in a totally new ecosystem targeting different fish.  We unfortunately didn't get any Snook on this trip, but Jessica nailed a beautiful Tarpon on the day we spent specifically targeting this amazing game fish.  Those of you who love streamer fishing will love fishing for Tarpon and Snook, as it is essentially streamer fishing on steroids.  The flies are bigger, the fish are bigger, and the fight is something to behold.
Perhaps the one thing Ascension Bay is known for most is the Permit fishing.  For those not in the know, Permit are possibly the one fish on every saltwater anglers wishlist.  Sleek and graceful, powerful yet delicate, fast and apprehensive, Permit are one tricky fish to catch.  Often you hear of anglers going out and looking for permit… and thats all they do.  Not only are these fish extremely picky, but they are notoriously difficult to find, and you usually only get one shot at them when you do see one.  Ascension Bay has one of the largest Permit populations of anywhere, and is one of the better locations to try your luck at landing one of these impressive fish.  We spent one and a half days of four days of fishing trying to catch a Permit and very nearly succeeded.  We had the amazing fortune of running into a whole school of Permit, and even had one briefly on the line, but alas, it got away!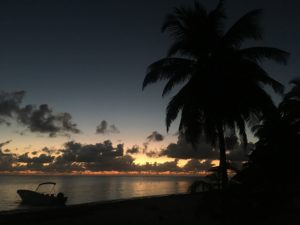 There are also a plethora of other fish available to be caught in the waters near Punta Allen.  Jack, Grouper, Barracuda, and even sharks can all be caught on a fly rod if you have the mind to do it.  And if they aren't fun to catch (they are) they certainly are delicious for dinner or ceviche appetizer!  Needless to say, the fishing opportunities at Ascension Bay are amazing and certainly worth the time of anybody looking to have a great saltwater fly fishing experience.
Returning Home
Nobody wants to leave a fishing paradise such as this, but unfortunately most of us have to.  The trip back home is much like the journey to the lodge.  We will get a hearty breakfast at the lodge, then get on the boat back up to Tulum through the Sian Ka'an where the car will meet us and take us to the airport, with a stop for some absolutely fantastic authentic Mexican tacos in Tulum.  From there its just a short drive to the Cancun airport from where we will all depart to head home.
I hope you all enjoyed this synopsis of our trip in February and that some of you can join us for our trip starting June 10th!  If not, please don't hesitate to reach out to us to set up your own private trip to Punta Allen and the Ascension Bay Lodge, or to even organize a trip hosted by LFFE.  Until then…
Tight Lines,
Charlie Parr