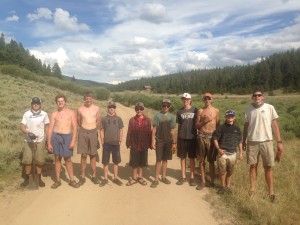 The group after a hard days work" />
Days are getting shorter, nights are getting colder, summer is waning, and the trip is coming to a close. It has certainly been one to remember. It seems like way more than two weeks ago when we picked up the guys at the airport and headed southwest into the Heart of the Colorado Rockies. I'm sure that nobody is going to forget this amazing trip anytime soon!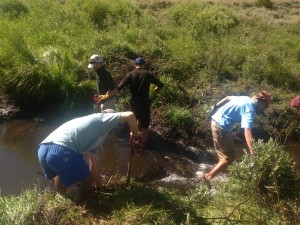 Today the guys are out float fishing the Arkansas River near Buena Vista Colorado, searching for that one last trophy trout of the trip. Hopefully they find it, and many more others. Since returning from our backpacking trip in the Collegiate Peaks Wilderness we have been camped out along Illinois Creek in the Taylor Park on the western slope of the Collegiates. It was there that we completed the service portion of our trip. We were helping to remove beaver dams along the creek, cutting back pesky willows, and building trout pools.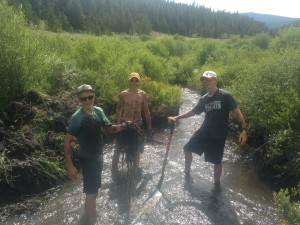 They guys absolutely killed it! One of the hardest working groups I have had the pleasure of working with. Not only did we help to improve trout habitat on the stream, but we got to fish the stream and the accompanying trout ponds.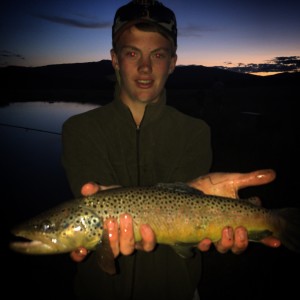 Andrew with a fine trophy brown" />
With the water levels dropping in August, the fishing can be tough. The trout become skittish and spooky, but for our now experienced anglers, this was not much of an issue. The guys pulled numerous browns, rainbows, and brook trout from the stream during the day. After a dip in the Taylor Reservoir in the heat of the afternoon, and a delicious dinner, we hit up the ponds near our campsite. They boys absolutely killed it! Nearly everybody hauled in sizeable trout, but the highlight of the night was Andrew's 21-inch brown!
After the float trip today we head to our final campsite where we will clean our gear, do laundry, and prepare to leave for home. Tomorrow nights banquet, a steak dinner, will be fun affair where we can reminisce about the good times, great views, and amazing fishing experienced on this trip. All in all, nobody could ask for a better trip with such a great crew! Next time youll see us, we will be home, and until then…
Tight Lines!
Charlie Parr