Today we got off the mighty Colorado after 2 full days of float fishing.  Boy howdy what a great couple of days it was!  Monday was a beautiful blue-bird sunny Colorado day.  We pushed off from the boat ramp at pumphouse outside of Kremmling Colorado around 9 in the morning and started picking up fish almost immediately.  The fishing was good despite the sun beating down (trout don't like direct sunlight), and by lunch the boys had boated several nice fish.  After a leisurely chicken salad pita sandwich lunch on an island sand bar, we pushed off towards our campsite and more prime fishing water.  By 5 pm we had reached our campsite nestled among some cottonwood trees on the bank of the river and eagerly set about swimming in the dying heat of the day.  A brief rain shower hit us as we were grilling up our bacon cheeseburgers, but it certainly did not dampen our spirits.  After a few rousing rounds of the game washers we settled in around the campfire and soon hit the hay, exhausted from all the fishing and sunshine.
Morning broke to cloudy skies and cooler temperatures, which is the perfect weather for catching the big fish that the Colorado is known to produce.  After a hearty breakfast of chorizo, egg, and cheese breakfast sandwiches we put back onto the river with high hopes of nailing that trophy trout.  The fishing was fast and furious with nearly every boat seeing plenty of action before lunch on just about every bug pattern imaginable!  After a quick lunch we got back to fishing and were rewarded with many more fish.  Perhaps the highlight of the day came when Tom boated a monster 20-inch brown trout late in the afternoon just before the take-out!  It was definitely the perfect ending to an amazing trip full of great fishing.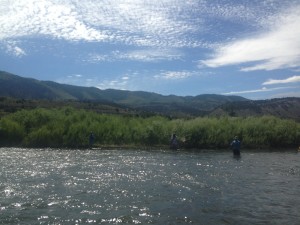 Tonight we are back in the front-country winding down the trip.  As it is Eli's birthday today we are celebrating with pizza and root beer floats tonight before tomorrows tasks of cleaning our gear and prepping for the trip home.  This has truly been an unforgettable experience, and I'm sure it will be talked about many times in the weeks to come.  Wait for the next update in two days time when all the guys head back home.  Until then…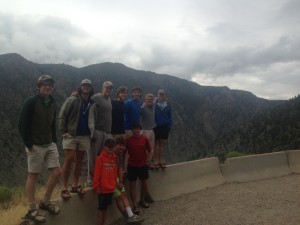 Tight Lines!
Charlie Parr