Teddy came on his first LFFE trip in 2016. His fly fishing experience was limited at best, but it didn't take long to realize fishing was part of his DNA. In 2017 and 2018 Teddy came on two trips per summer, including the 2018 NC Blue Ridge Adventure as a Intern Trip Leader. His drive and dedication has transformed him into a true expert. He proved this point on the 2018 Yellowstone Expedition where, as a LIT, he caught some of the biggest wild fish ever caught on a LFFE trip. All with his signature fiberglass rod. This spring he will graduate from Woodbury Forest and head off to college. We are honored that he chose to write his college essay about how LFFE helped to prepare him for that transition.
Essay by Teddy Janney (photos added)
When my parents separated seven years ago I found myself searching for something that would always be there no matter the circumstances, something free from the influences of the minds around me, some kind of everlasting truth. I have found that truth in fly fishing.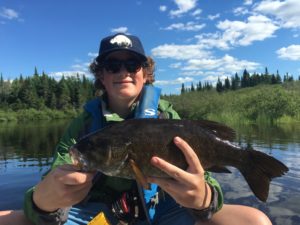 In the summer of 2016, I started to go on fly fishing expeditions in Maine, North Carolina, and Yellowstone with Lillard Fly Fishing expeditions. Will Lillard, the founder of the company, became a real friend to me during these trips and connected me to the wonders of nature like I never thought possible.  As I endlessly walked down a stream that was rarely visited by man, I knew there was something to find there that was special and true.
I would wake up with the sun and cast hundreds of times a day perfecting the art of a cast and the presentation of my fly. I took pride in my preparation and analysis of my surrounding, and slowly it became ingrained in my process. The days were simple as I cast my fly line across the horizon that separated meadows from the mountains. I started to appreciate the little details in nature like a grasshopper hopping from one blade of grass to another.
This process was what really attracted me to catching fish. I found that if I had the perfect technique and strategy I could catch any fish that was rising to a newborn mayfly that had been waiting in the water for a year to have its short-lived life in the air.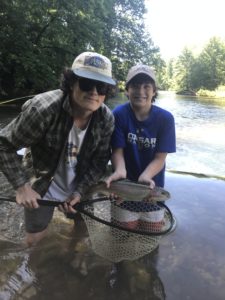 If you want to be a good fisherman, you have to be aware of all of your surroundings. Taking in every little detail from the flex of your rod to the perfectly tied knots all the way down to your fly. Your fly is your most important tool, and how you choose it comes from the observation you have made beneath the water and what you see in the sky. Watching closely and paying good attention to the natural movements of the water can tell you where the fish will be and where to cast your fly.
Every time you cast you are expressing the thoughts and observations you have made. Being able to adapt to what you can not see and inferring the truth of your current situation comes from your overall experience as a fly fisherman. When everything comes together and you see a fish slowly rise to your fly and sip it off the surface you must capitalize on the situation. Making sure that you have a firm hook set and being prepared for any direction the fish could take you underneath the water. I fell in love with the satisfaction of the success you get after seeing a massive, native, blue-hued brown trout torpedo from the depths out of the water and seeing the sun reflecting against the fish and lighting up its natural vibrant colors.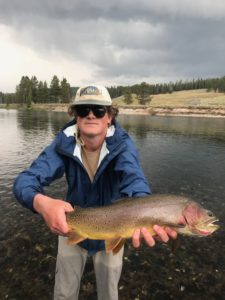 This observation of life and the process of catching a fish lead me to realize that I could apply what I learned next to a river to my everyday life. Catching that trophy fish became a goal that would haunt my dreams and how I changed my stride walking along the river. I began to take care of the little things in my everyday life and began to formulate stages that would help me achieve an overall goal. Whatever that trophy fish was in my life was up to me, but now I knew through fishing that preparation was my way to success. The way in which I conducted my everyday life changed, and I was able to see problems coming my way and to find a solution. Loving the process and preparation that would get me there is now my best tool to achieve success, and making sure I take care of the details comes with loving the process.