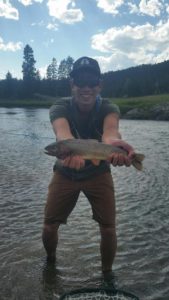 After our heroic return from the backcountry, we have continued to slay trout. We spent the last few nights at the Mammoth Campground fishing a few different rivers. The Gardiner River runs very close to Mammoth Campground and we have been very successful in the evenings matching hatches and pulling out big fish.
The first morning back from the backcountry, we spent relaxing around the campsite giving our tired legs a break from our hike into Slough Creek.  It was a much deserved restful morning.  We quickly regained our steam and hit up the evening hatch.  The evenings proved to be the best time for us to hit the rivers.  We were very successful in matching evening hatches and all enjoyed the cooler afternoon temperatures.  When not fishing, we have spent the past few days jumping in the cool rivers and playing ultimate frisbee.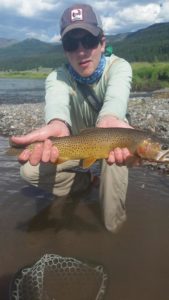 On the 25th we hiked into Grebe Lake to fish for Grayling. It was a nice day hike that brought us to a beautiful backcountry lake.  It is truly amazing to leave the roads and campgrounds of Yellowstone and enter into areas most tourists don't get to see. Today we are fishing the Madison River and preparing to head into the Bechler Backcountry, where we are sure to run into many many trout.  We will be in the backcountry for two nights surrounded by the beauty of the park and i'm sure we will be the only fishermen on the river.
We will be in touch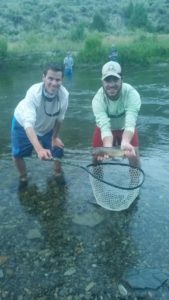 after our backcountry trip.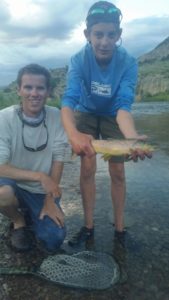 Tight lines, Wj