Yesterday marked the final day of our Maine Expedition. Our great group of fisherman and fortunate timing made for some of the best fishing of the summer thus far. The last two days were spent on the Rapid River, while staying at the historic Lakewood Camps. I think it is safe to say it was the highlight of the trip!
After our 3o minute boat ride we were all eager to hit the river. We quickly set our bags on the porches of the cabins, that most would consider rustic, but after 12 days in the wilderness, to us they were luxurious. After making the 5 minute walk to the river we quickly realized that we were in for some amazing fishing. Just as we had hoped we timed our arrival perfectly with the Alder fly hatch. As we approached the dam we could see thick clouds of them swarming around. In the first 30 seconds of watching the pools below the dam I counted 6 rising fish. Within minutes we were catching fish, and the catching continued steadily until our departure two days later. For the most part we did not have to stray far from the large attractor patterns, our favorite being the stimulator.  For the brief periods during which the fish took a break from feeding on top, a nymph, large streamer, or even a mouse pattern all got the trick done. This marked my 4th trip to Lakewood Camps, and it was without a doubt, the best fishing I have seen yet.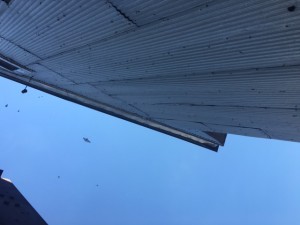 Alder flies swarming at the dam" />
On Friday we sadly had to depart from Lakewood Camps, but not before we caught one last rising brook trout from the boat dock on a hand thrown line and dry fly, yes the fishing REALLY was that good. After arriving back at our vans we loaded up and started our long journey back south to Massachusetts. It was hard to believe our trip was already coming to an end, but the three hour drive flew by with conversations about all the amazing fish we had caught.
After some organization and packing of our personal gear, we headed out for one last dinner as a group. If think it is safe to say that this will not be the last time a lot of this awesome group fishes together, and I look forward to wetting a line with them again in the future.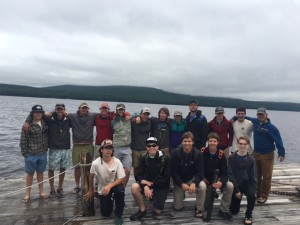 saying goodbye to Lakewood Camps" />
Tight Lines,
Will and Crew
To view more photos from our Maine Woods Expedition click here.