Greetings from Maine. Things are off to a great start here on Moosehead Lake, as there is really no better place to kick off a trip. Yesterday was an eventful day filled with both backcountry preparation and fishing in the surrounding area. After fishing around the campsite for a while, we prepared an awesome meal of chicken stir fry and prepared for our upcoming canoeing trip to Indian pond.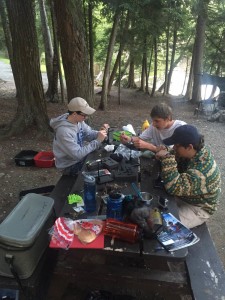 Tying flies for some backcountry smallmouth and trout." />
After dinner, the group fished and tied flies until light no longer permitted. Everyone who fished the small pond filled with eager brook trout was able to pull in one of these beautiful fish, while others spent their time diligently tying flies in hopes of fooling a hungry fish in the backcountry. Many of these flies were the first the members of the group had ever tied, which is an awesome accomplishment. The group quickly caught on and became efficient at tying their own flies, and the ones tied will no doubt get some use.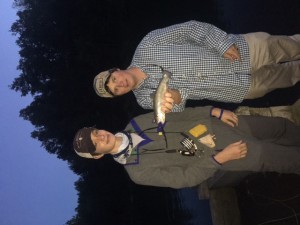 After the sun went down we had a golden hour of flies hatching and fish rising everywhere." />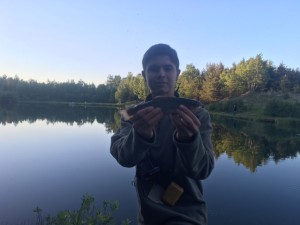 Another first ever fish on the fly!" />
This morning we are picking up our canoes and headed to the backcountry of Indian pond. We will float the West Outlet of the Kennebec River on our first full day in search of smallmouth bass, while the second day will be spent wade fishing the Eastern Outlet for brook trout and landlocked salmon. It will undoubtedly be a great way to spend the first couple days of our trip. We have an awesome group of young anglers on this adventure, and we are looking forward to watching them improve as fly fishermen and conservationists.
Tight lines,
Will and crew