The Yellowstone Adventure is off to a great start. After Wednesdays arrival we enjoyed some hamburgers and got to know each other around the campfire. Early the next morning we packed our bags and started our drive into Yellowstone.
We had not been on the road for ten minutes when we spotted our first Buffalo, grazing beneath the Grand Teton. On our way into the park we stopped to take in the amazing vista from the Snake River Overlook, a spot made famous by one of Ansel Adams's most iconic images.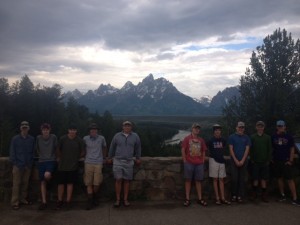 Standing in the same spot Ansel Adams took his iconic photo of the Snake River winding through the shadows of the Tetons." />
After stoping in the ranger station to pick up our fishing licenses we headed to our campsite on the Madison River. Once we had camp all set up we reviewed some fly fishing knots before we made our way to the river where we all got a chance to practice our fishing techniques. We did not have much luck on the Madison so we packed up the van and took a short drive to the Gibbon River. The fish in the Gibbon were happy to eat our dry flies and nymphs. Not everybody caught a fish but we all had some strikes.
As we head into the backcountry today that will all change. Our campsite sits right on the banks of straight creek and only a half mile from a lake, both of which are loaded with eager brook trout. This is the perfect opportunity for us all to build our skills and practice our techniques before we fish some more technical rivers and streams during the later part of our adventure.
Our group goal for this backcountry section is 500 fish! Check back on the 13th to see how we did.
Tight Lines,
Will