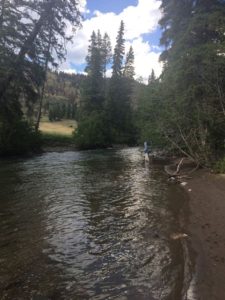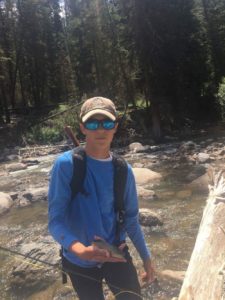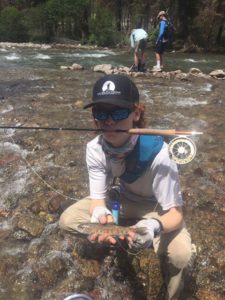 Greetings from the Lamar Valley,
Our trip is off to a fantastic start. After arrival day we headed into Yellowstone National Park to get the fishing started.
A quick hike from our campsite brought us to the Lewis and Snake Rivers. It was a successful first afternoon on the water as almost everyone in the group caught a fish, but we knew the best fishing of the trip was still to come.
Yesterday our group made the drive to the northern part of the park where the rivers were in prime shape. We spent the night at the Mammoth Hot Springs Campground, on the banks of the Gardner River. The fishing was slow at first, but our group of anglers managed to pull out some beautiful Brown and Rainbow Trout.
This morning we woke up early in anticipation of Slough Creek, what is sure to be a highlight of the trip. Half of the group packed up for the backcountry where they will be spending two nights in the second and third meadows of Slough. This section of river is world famous among fly fisherman for its deep crystal clear bends that hold big cutthroat that rise to well presented hoppers. The other half of the group is staying at the Slough Creek campground where they all caught several fish including some in big ones in the 15-20" range. In two days the group will switch and do it all over again. All said and done we will all get to spend 4 nights camped on the banks of one of Yellowstone's most famous rivers.
We will send out another update as soon as we head back to Mammoth on 7/21.
Tight Lines,
WJ, Nate, Patrick and crew