Greetings from NC,
Our summer 2015 Adventures are officially under way! We are only two days into the Blue Ridge Adventure and everyone has caught some nice fish.
Yesterday we started off with a refresher of knots and casting before lunch.
After we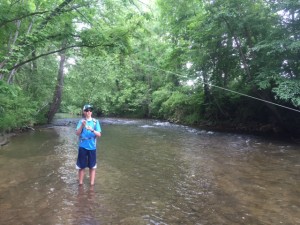 Austin fighting a Davidson River trophy trout." />
fueled up on some sandwiches, we headed to meet our guides for an afternoon of fishing on the Davidson River. Everyone in the group caught several fish, with some beautiful rainbow trout up to about 16" being landed. We had our shot at several fish over 20" but unfortunately, we were unable to get any of them in the net. Luckily for us we will be back at the Davidson River private water on the final day. After over a week of practice I am sure our luck with the big fish will change.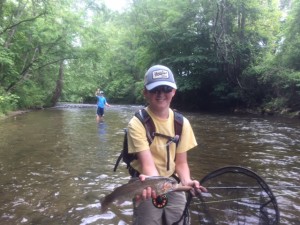 Mack shows off a healthy Davidson River Rainbow." />
Today we woke up early to pack up camp and head to the trailhead. We will be hiking into a small stream in search of some absolutely beautiful Southern Appalachian Brook Trout. These increasingly rare fish have been swimming in these waters since the last ice age, but now only inhabit a small fraction of their native range. If the weather works in our favor we will all have had the chance to release one of these remarkable fish before our 1st backcountry trip comes to an end.
We look forward to letting you know how it went when we get back into service tomorrow evening.
Keep your fingers crossed for us!