At Lillard Fly Fishing Expeditions our mission is to "inspire future generations of sporting conservationists" through the combination of fly fishing, environmental education, and leadership training. We are always striving to make new connections that help us reach this goal. Oftentimes those connections are with families, schools, or non-profit organizations, but occasionally we find companies who like LFFE, have a passion for conservation inspired by a love of the outdoors. Mountain Khakis, a Jackson Hole, WY based clothing company not only makes the worlds best "mountain inspired" pants and accessories, they have made a strong commitment to helping conservation efforts through their Mountain Khaki Fund. Their MK Fund seeks to "build long-term partnerships and increase the affectivity of grassroots organizations that seek to protect and promote the diverse values of the outdoor lifestyle".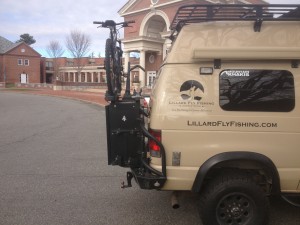 The LFFE Mobile complete with it's new Mountain Khaki decals makes a visit to The Hotchkiss School." />
As we embark on our winter marketing trip to schools, shows, and events throughout the country we are happy to announce we have gained the support of Mountain Khakis. Through the help of the MK Fund we will not only be spreading the word about our unique programs, we are also happy to be sharing our love for Mountain Khakis. With their support we will be giving away free MK gift cards and all sorts of other cool Mountain Khaki gear everywhere we go. So next time the LFFE Mobile comes rolling through your area make sure you come say hi!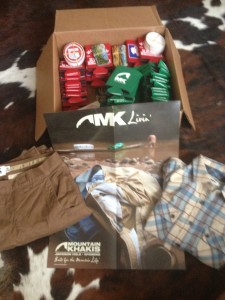 Cozies, gift cards, stickers, and much more. Come say hi next time the LFFE Mobile is rolling through your area to get your free Mountain Khaki gear." />