Howdy from the Maine Woods,
It is hard to believe that our Maine Adventure is rounding the halfway mark. We have had some good fishing despite some tough conditions.
One of many nice smallmouth caught during our West Outlet Float." />
This morning, we paddled our canoes out of the backcountry after two nights on Indian Pond and the West Outlet of the Kennebec. We were scheduled to float the West Outlet of the Kennebec yesterday, but we made some quick adjustments to take advantage of better weather on the 15th. The forecast was for sunny skies on the the 15th and cold rain on the 16th. Looking back, we can definitely say that we made the right choice. We enjoyed a beautiful float down the West Outlet right to our campsite on Indian pond. The fishing was outstanding. We all caught a good number of fish including some true trophy smallmouth, and one boat that landed over 50 fish on the day.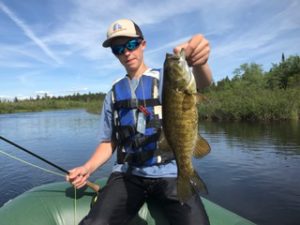 And another one!" />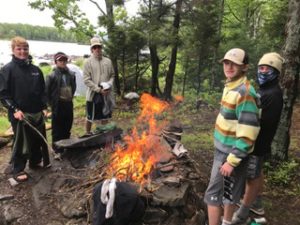 Nothing better than a hot fire on a cold day." />
When we arrived at our campsite, we set up camp and prepared for the cold and rain in the forecast. We gave the participants the option to paddle out of the backcountry a day early, but they decided they were having too much fun on our island campsite. The weather forecast was correct, and yesterday involved some 50 degree weather and sideways rain. Luckily the rain cut out early in the afternoon, and we enjoyed an afternoon staying warm around the campfire. The guys that braved the cold to fish on the leeward side of the island had some steady fishing. The rest of them stuck to a steady stream of hot chocolate.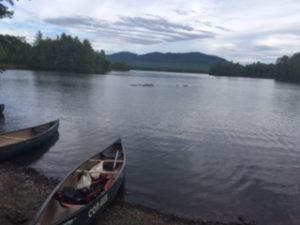 Everyone was relieved to wake up to clearing skies and a calm lake." />
The weather forecast was for more rain today, but we were all really excited to wake up to blue skies and a calm lake this morning. After paddling back from our campsite, we headed to town for some showers and laundry. From there, we continued our journey to another campsite along the banks of a small brook trout stream. Everyone rushed to set up camp and their rods before our taco dinner. Tomorrow we will make a short trip to a nearby river in search of some salmon and brook trout before heading to our cabins at Lakewood Camps for two nights. We will send out a short update on the 19th.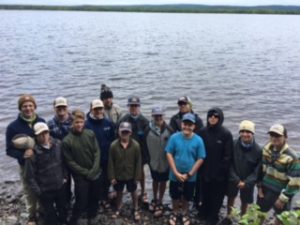 Saying goodbye to our campsite on Indian Pond." />
Best, Will, Edward, Tripp, Nate and Crew