When I first introduced the Maine Adventure last fall I knew it was going to be an amazing trip. We are only a few days in and it has already surpassed my high expectations.
Our trip started off with the concern of heavy rain. Not only in the forecast, but in the recent weeks. Maine has received an excessive amount of rain this June leaving rivers high and tough to fish. On the second day of the trip we boarded a boat and headed to Lakewood Camps to fish the Rapid river. The section of river we would be fishing is directly beneath a dam that typically releases 400-1000cfs of water this time of year. On our arrival they were releasing 3000cfs, but our concerns about the fishing were quickly washed away.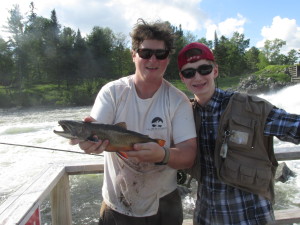 Max caught this truly once in a lifetime trophy wild Maine Brook Trout. I lost my hat and got a little dirty trying to get this beast into the net but it was well worth it." />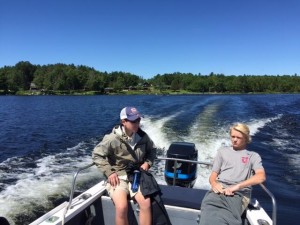 Lakewood Camps fades away in the distance." />
The high water limited the amount of places we could fish, but it certainly did not limit the fish we caught. During our two night and three day stay at the lodge we caught more landlocked salmon than we could count and several nice brook trout (including a once in a lifetime trophy trout). When the heavy rain moved in we retreated to our rustic cabins and played cards around the wood burning stove. It was a perfect set up.
Some of the crew enjoys cards around the stove while the rain falls outside." />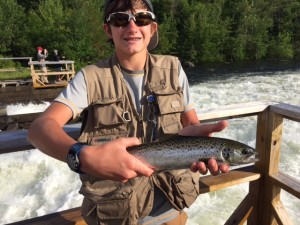 We caught more salmon in the 12-20 inch class than we could count. Their tendency for jumping when hooked added lots of excitement." />
This morning we boarded the boat and made the journey back to our van, ready to start the next leg of our journey. Luckily for us the clouds cleared the same day as we left the comfort of our cabins. Tomorrow we will load up our canoes and paddle across Indian Pond where we will set up camp for three nights of backcountry fishing. From our site we will have perfect access to trout and salmon fishing on the East and West Outlets of the Kennebec river in addition to some smallmouth bass fishing on Indian Pond. To say the least we are all really excited for the next three days of sunshine and fishing.
We will send another update as soon as we get back to internet service on 6/28. Until then keep your fingers crossed that the weather forecast doesn't change and this fishing stays hot!
Thanks,
Will and the Gang.