Greeting from Massachusetts,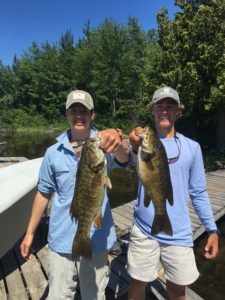 In some rivers these fish would be considered trophies, but in Maine's best trophy brook trout river they are invasive." />
We ended the trip with some of the best fishing we could have asked for. Lakewood Camps was a huge success! A majority of the guys landed trophy brook trout and landlocked salmon. They loved the cabins and a two-night sleep in a bed. Along with the great trout fishing the boys accomplished eliminating quite a few smallmouth bass that are an invasive species in the Rapid River.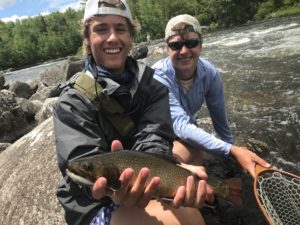 Brook trout like this one are what make the Rapid River such a special place, and this year we caught more of them then any year since we first started our Maine trips." />
Once we left Lakewood Camps, we headed south to stay a couple nights at Will's house in western Massachusetts. There the boys got to float sections of the Housatonic River for pike and smallmouth bass. The weather cooperated perfectly and the group as a whole landed several large pike, which is a treat in itself.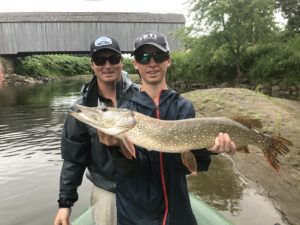 Parker with a river monster we landed on the last cast." />
Cal, Edward, and I have already started our journey west to Jackson, WY in preparation for our Yellowstone trips. We will upload all the pictures we took on our phones to our page on Flickr as soon as we have fast enough internet. Here is the link to all our trip photo albums.
Regards,
Will, Cal, Edward, and crew.