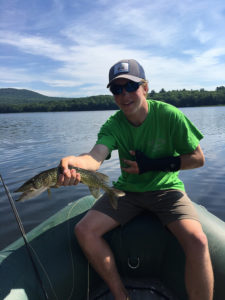 Greetings from LFFE.
By now I am sure you have all heard some great stories from our successful Maine Expedition. After leaving Lakewood camps we made the drive down to MA for some pike fishing. We had absolutely perfect weather the entire trip, but unfortunately our luck ran out.
While driving south through Maine in a light rain, it was apparently coming down in buckets in western MA. The Berkshires got over 6.25" of rain in less than 24 hours, which unfortunately resulted in the rivers turning into chocolate milk. With no chance of the pike being able to see our flies we called an audible and moved our fishing over to a nearby lake that is chalk full of largemouth bass and pikes little brother, pickerel.
Despite the unfortunate conditions for pike fishing our group had an amazing trip. Tons of fish were caught, including some absolute monsters. Here is a link to view all of the pictures that we took during the trip, and uploaded to Flickr. Thank you to all of the participants for helping make our trip such a success, and we hope to have the chance to fish with you again in the future.
Tight Lines,
Will Lillard