Greetings from LFFE,
By now I am sure you have all heard some great stories from our Maine Expedition. After leaving Lakewood Camps the group headed to the Moosehead Lakes Region for a canoe trip into the backcountry of the East and West Outlets of the Kennebec River.
Just north of Moosehead Lake, Indian Pond (more like a lake in my opinion), provides the perfect opportunity to experience a true Maine canoe experience. On the first day we paddled our canoes, and all of our gear over to our campsite right where the East Outlet flows into Indian Pond. Our campsite provide the perfect base camp for the next three nights. From our camp we could easily fish the cold water of the east outlet for brook trout and salmon, or chase large smallmouth in the pond.
The next two days we paddled back to the boat launch on Indian Pond,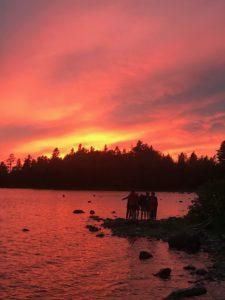 where we would meet our shuttle to the top of the West Outlet. Unlike the East Outlet, the West Outlet is full of trophy smallmouth. Combine that with the fact that the river is to rocky for guides to float in their drift boats, and you have a recipe for some of the best smallmouth fishing I have ever seen. These fish rarely see flies, making for fast paced action, and when you need a break from fishing the scenic rapids are almost as much fun.
On the 30th the group packed up their backcountry camp and paddled to the boat ramp one last time. From there they made the drive back down to MA where we set up camp near the Boston Airport and went out for our banquet dinner at a local Mexican Restaurant.  There was a lot of laughing as we reminisced about all the great fishing, friends, and stories. We were sorry to see this group leave yesterday, but Pat, Nate, Connor and I hope to have the chance to fish with them again in the future. We have posted all of the photos from the trip on our page on Flickr for you to download. Here is a link.