Hello from the Rangeley Lakes Region,
We have arrived at one of the highlights of the trip: Lakewood Camps. We will be staying in rustic cabins here on the grounds for two nights on the headwaters of the Rapid River, home to some of the largest wild Brook Trout in the Lower 48. The weather appears that it is going to hold up for the two days that we are here, and the rocks near the river are crawling with golden stoneflies. We should be in store for some amazing fishing.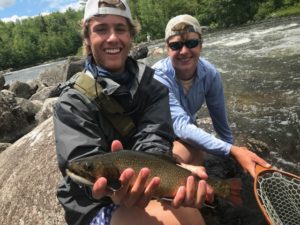 Just one of many big brook trout and salmon that have been landed in or first of 3 days at Lakewood Camps" />
The past three days have been filled with a lot of different types of water while staying in our primitive campsite at the Cupsuptic Lake Campground. Our first day at Cupsuptic was spent setting up camp and fishing the stream right below our camp, the Cupsuptic River. This water provided an excellent opportunity for our anglers to hone their skills in preparation for bigger fish, as the Cupsuptic is full of eager Brook Trout hiding behind every rock and run in the river. The rain cut our day a bit short, and we decided to take refuge at a local bowling alley for a change of pace from fishing.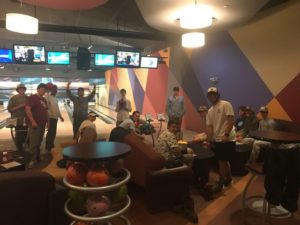 Bowling proved to be a great choice to escape the torrential downpour back at camp." />
This past Sunday, we made the short trip to the Magalloway River to fish for larger Brook Trout and Salmon. Many out of our group caught very nice fish, including some trophies that only Maine can provide. After a long day on the water, we settled into a meal of spaghetti around the camp fire.
Yesterday, our group decided that we wanted to try some different water, so we hiked into the same river we will be fishing for the next two days. Right when we arrived, a golden stonefly hatch had just begun that was unlike anything I have ever seen in Maine. The fishermen and women reading this know what an amazing treat this is. For those of you who don't fish, stoneflies are the largest of the three genus's of aquatic insects that make up the majority of a trout's diet. Our experienced group of anglers took advantage of this, with many large fish being hooked. It was undoubtedly a good way to get ourselves used to the water that we will be fishing for the next two days. This evening we are eating an early dinner before heading down stream to the Lower Dam on the Rapid River. If the stonefly hatch keeps up we could have some of the best fishing I have ever seen in Maine! Keep your fingers crossed for us.
It is hard to believe that the Maine Woods Expedition is coming to a close in a few short days. It feels like just yesterday we were picking everyone up at the Boston airport. We will wrap up the trip in Massachusetts floating for Pike and Smallmouth, where we hope to land a few of the large but challenging fish. We will send out one more update after we complete our floats.
Tight Lines,
Will, Cal, Edward, and Crew