Hello from Greenville,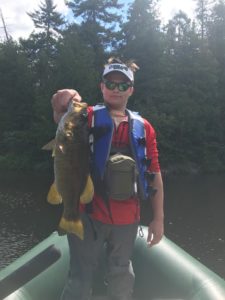 Brett with a monster smallmouth from the West Outlet" />
We have made it out of the backcountry on Indian Pond. On arrival day, we paddled to a beautiful campsite along the East Outlet of the Kennebec River, which provided smallmouth bass, brook trout, and landlocked salmon fishing that afternoon. Following some great fishing, we stuffed our bellies with pita pizzas and sat around the campfire. The next two days consisted of getting shuttled to the top of the West Outlet of the Kennebec, where we floated in the canoes down the river. Our group managed to catch all the species in the river which included perch, smallmouth bass, creek chub, and brook trout. Some of the men caught several 2 plus pound trophy small mouth. It was an awesome day on the river! The boys earned a day of rest so the next morning we got to sleep in a bit before we packed up and canoed out. Last night and today, we are staying at Moosehead Family campground. Everyone got to take a hot shower and tidy up before our next adventure.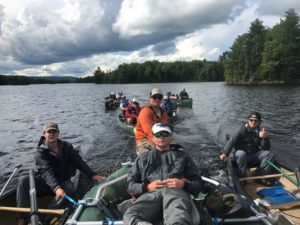 Hitching a ride back to camp after a long paddle down the West Outlet." />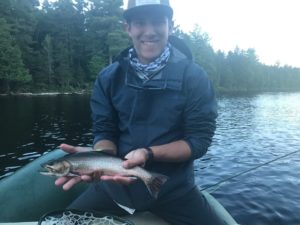 The evening hatch near our campsite on the East Outlet produced some nice brook trout and salmon." />
Tomorrow we will do some laundry and organize gear before heading into the Cupsuptic Lake Region for 3 nights. There we have several great fishing options. We are camping along the Cupsuptic River which provides the opportunity to catch native brook trout. Within a few minutes drive are the Magalloway River and Upper dam of the Rapid River which also have native trophy brook trout. Our group has a lot of talented young fly fisherman so the odds are in our favor to catch a lot of great fish.
Once we finish up at in the Cupsuptic Region, we head to Lakewood Camps. Lakewood has small cabins we will be staying in and some of the best fishing of the trip. The Rapid River runs directly along side camp and is filled with some of the biggest brook trout in the country. The river feeds into a small lake which contains invasive smallmouth. With lots of great fishing ahead, we are excited to see what the future holds!
Tight Lines,
Will, Edward, Cal, and crew