Greetings from Maine,
Our group that started their trip with 3 days of pike and smallmouth fishing in Western Massachusetts officially made it to Maine today. We could not have asked for a more perfect start to our trip.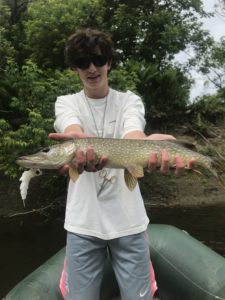 After arriving in Western Maine on Monday we hit the ground running by jumping right into some pike and smallmouth fishing on the Housatonic River. The pike and smallmouth make for a great combination as the smallmouth are plentiful and eager to eat a fly while the predatory pike are much more difficult to fool. Our goal for this trip is always for everyone to at a minimum see one of these huge "river wolfs" chase down their fly. Our group worked hard despite some cloud free days that can make pike less aggressive we accomplished our goal, and as a bonus 50% of the group were able to land one of these awesome fish and almost all of them had one on the line, including some absolute monsters that were able to break us off. The smallmouth cooperated perfectly and when the pike were not eating the boys were thrilled to be catching the smallmouth almost constantly. Everyone in the group caught well over 20 fish, and several landed well over 100. In addition to the pike and smallmouth the cold spring that we have been having in the Berkshires provided us the opportunity to catch some Brown trout in the same spots. We added a few perch, creek chub, blue gill, a largemouth, and one rainbow trout to bring our total species count up to 8 before even getting to Maine.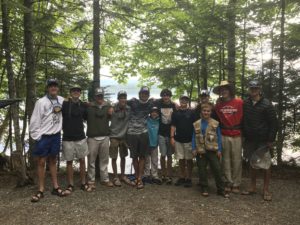 This morning we woke up early to make the drive up to our campsite at Rangeley Lake State Park. When we finally got of I-95 and up into the mountains of Maine you could feel the excitement building in the van. After arriving at our campsite the group set up their tents in record time and we set out to fish the Magalloway River. The Magalloway is home to some beautiful Brook trout and landlocked salmon, and it did not take long before we added both of these to our species count. We fished for a few hours than made Bratwurst and baked beans for dinner along the river and then went back out to fish until dark. A thick caddis hatch made for some great dry fly action in the evening. On our drive back to our campsite we were even lucky enough to see our first moose of the trip, less than 12 hours after arriving in Maine.
Tomorrow we will spend one more day fishing the Magalloway before we head to the historic Lakewood Camps along the Rapid river for two nights. Lakewood is one of the oldest "fishing camps" in Maine, and has not changed much over the years. The rustic cabins run on a generator and power shuts off at 9pm. The camps sits just a few hundred yards away from the Middle Dam on the Rapid River, which is home to the largest native Brook Trout in the United States. Between the amazing fishing and historic ambiance and incredible fishing this is always one of the highlights of our trip.
Hopefully our streak of perfect weather and lights out fishing continues! Be sure to check back for another update when we depart Lakewood on the 26th!