Hello from Maine. We came out of the Indian Pond backcountry today, and the experience could not have gone better. Everyone caught tons of fish, especially on the two days floating the West Outlet of the Kennebec River for trophy size smallmouth. The species range was extremely wide with good sized salmon, brook trout, smallmouth, perch, and creek chub all being caught on the fly.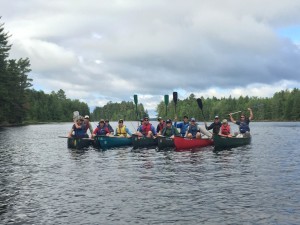 Ready to take on some rapids and chase some trophy smallmouth." />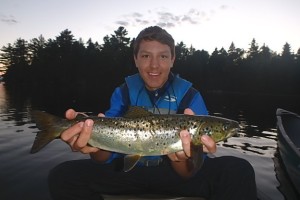 Teddy with a monster of a Landlocked Salmon caught right in front of the campsite we stayed at for four nights." />
The floats, as aforementioned, went great. Because of the size of our group, we split up into two smaller groups for the day, with each group putting in at different locations. This allowed each group to fish new or rested water for almost the entire float. The results were more big fish, and lots of them. Everyone in our group at least hooked a huge smallmouth, but landing a 4lb fish on a fly rod is no easy task.  It was undoubtedly a unique experience for all involved.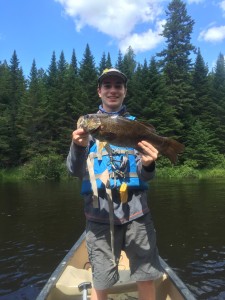 Ben with a big smallmouth from the West Outlet of the Kennebec." />
Today was spent taking showers and playing a highly contested game of ultimate frisbee, which is always a fun alternative to fishing. We will be spending the night at Moosehead family campground tonight in preparation for tomorrows adventure: our service project. The project could not be more perfect for this eager group of fishermen, as we will be teaching people how to fly cast at Lily Bay State Park. This experience should be rewarding for everyone involved. We will follow up our service project by watching the fireworks over Moosehead Lake.
Cupsuptic River Campground is our next destination after tomorrow's action, where we will be fishing the Rangely Lake region. We have an awesome group of young anglers, and while this trip is flying by, we are looking forward to many more fish. Here's to an awesome holiday weekend, and we will update everyone again soon.
Tight Lines,
Will and crew