Hello from Moosehead Lake,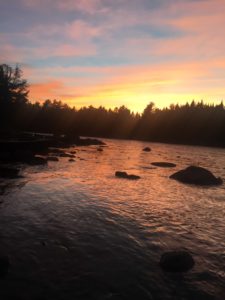 Our group has exited the backcountry, and the fishing was great. Many trophy smallmouth were caught, along with some brook trout, salmon, and the ever-present creek chub. Our campsite could not have been more perfect, as we were at the mouth of the East outlet of the Kennebec river, just a short paddle from where we ended the day on our float trips. The evenings were filled with a big dinner and a little bit more fishing, as the fishing around the campsite was extremely productive.
Today was a bit of a transition day for our group, as we exited the backcountry and ate a well-deserved hot lunch. We took showers at our campground, as well as did some laundry to restock on clothes for the rest of the trip.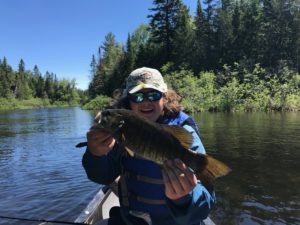 The coming days bring some of the most exciting days of the trip. Our group will head south tomorrow morning to the Rangeley Lake region, where we will spend the next day and a half fishing the Magalloway river. After this, we head to Lakewood camps, one of the highlights of the trip. Lakewood is nestled against the Rapid River, Maine's premier trophy Brook Trout fishery. We could not be more excited to get there.
It is hard to believe that our time is almost halfway out with this awesome group. Cal, Dayton, and I have really enjoyed getting to know everyone. If the past few days are any sign of things to come, we have an incredible trip ahead of us. We will update everyone again when we are exiting Lakewood Camps and headed to Massachusetts for some Pike fishing.
Tight Lines,
Edward, Cal, Dayton, and crew