Greetings from Maine. Our group just wrapped up our time at Lakewood Camps and is headed to the  Moosehead Lakes region of Maine for some trophy Smallmouth fishing. The trip has been flying by, and it is hard to believe that we are about to start our last section of the trip.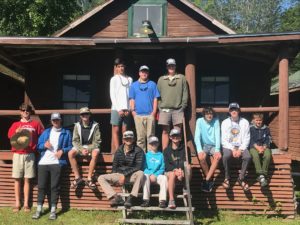 Saying goodbye to our cabins at the historic Lakewood Camps." />
Lakewood Camps sits on the Rapid River, widely regarded as the best trophy brook trout fishing in the lower 48, and we had the place to ourselves for two days of fishing. Our group divided our time at camp between fishing for brook trout and landlocked salmon in the river and helping to remove invasive smallmouth from the "pond in the river". Fishing during the day was slow but steady, but, in the evening, the river came alive with blanket hatches of caddis flies, which our group of anglers took advantage of. We landed several trophy size brook trout and dozens of hard fighting salmon.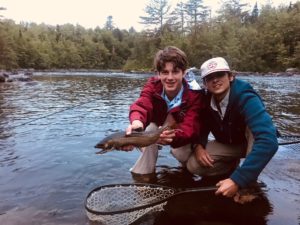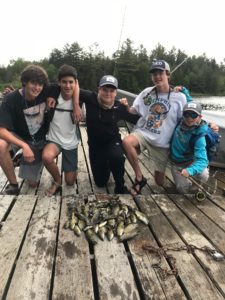 Just a small portion of the invasive Smallmouth Bass our group helped to remove from the Rapid River Drainage." />
Back in the 80's, smallmouth bass were illegally stocked in the Rapid river drainage. These ferocious eaters have taken a toll on the young brook trout, and the Maine Department of Inland Fisheries has done their best to control the population. Our service project was to remove as many as possible, and our group was successful in our mission to say the least. In two days of fishing, we caught and removed hundreds of these invasive fish, helping to do our part to protect this amazing river.
After our boat ride back to our van this morning, we started our journey to the Moosehead Lakes region of Maine, where we will spend three nights canoeing and fishing the East and West Outlets of the Kennebec Rivers. We will set up camp where the East outlet runs into Indian pond, where we can fish to rising brook trout and salmon in the evening. Our days will be spent getting shuttled to the top of the West Outlet and canoeing back to our campsite while fishing for the largest Smallmouth bass of the trip.
We are all sad that our time in Maine is coming to an end, but we are looking forward to some of the most action packed fishing of the trip. When we leave the backcountry, we will make the drive back down to MA, where we will set up camp one last time and enjoy a final banquet dinner together. Wish us luck, and we will let you know how it went on the final day of the trip.