Hello from Massachusetts. It is incredible that the Maine Woods Adventure is already coming to a close. We have had a great group of kids, and hopefully we will be able to fish with many of them again soon. Tonight was spent reminiscing on the good times had on the trip and fish caught, all while filling up at dinner from a local Mexican restaurant.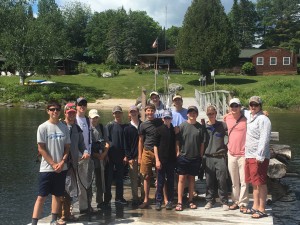 Lakewood Camps was the perfect setting for the final few days of our Maine Woods Adventure." />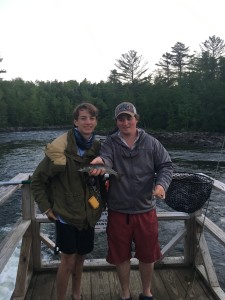 Walker celebrated his birthday with red velvet cake and the best fishing of the trip. He caught several nice salmon during the evening hatch and had a monster brook trout on before it broke free." />
The past two days have no doubt been a highlight of the trip, as they were spent at Maine's finest trophy brook trout and salmon fishery, the Rapid River, while enjoying the rustic comforts of Lakewood camps. We were even lucky enough to be celebrating Walker's birthday here on the trip, which was appreciated by everyone in the group, as it brought his favorite red velvet cake with it. Other than that, the food was awesome and the fishing was even better.
We also took care of a fun spin on community service while on the trip: eliminating as many smallmouth as possible within the river. Smallmouth bass were illegally stocked in the Rapid River Drainage and have flourished in the food rich environment. Unfortunately, that food is primarily young Brook Trout and Salmon, and there presence has taken a toll on the trophy fishery. In an effort to reduce the number of smallmouth, the fish and wildlife service asks anglers to remove all smallmouth caught within the drainage. Most anglers only catch one or two smallmouth while using techniques to target trout and salmon.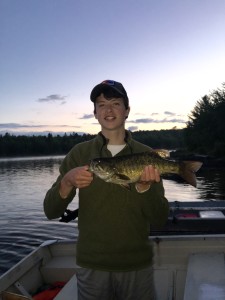 This big bellied smallmouth ate its last salmon or trout." />
We took it a step further and targeted smallmouth in an effort to remove as many as possible. This community service was a hit with all of our young anglers, and we spent most of the day out on the water removing well over 100 smallmouth. Our efforts were validated as several of the fish we caught had trout or salmon in their mouths when we landed them.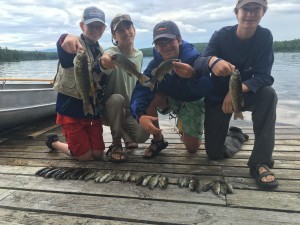 Only a fraction of the over 100 smallmouth we helped remove from the Rapid River." />
Like I said, it really is amazing that this trip has already come to a close. To view the full photo album click here. We have really enjoyed getting to know and bonding with our group and are sad that it has to come to an end. However, something tells me that this will not be the last time we see many of these anxious fishermen. Until then, have a great rest of the summer.
Tight lines,
Will and crew