Greetings from beautiful Maine yet again. We exited the backcountry today via canoe, which has been our main form of travel for almost the entire trip. It was a successful backcountry venture coupled with some of the greatest weather I have ever encountered in this neck of the woods.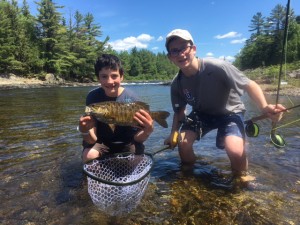 The first fish of the backcountry was a massive smallmouth!" />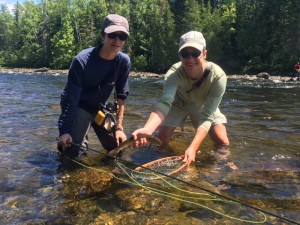 One of many brook trout from the East Outlet of the Kennebec just a stones throw from our campsite." />
We canoed in on Friday after some quick paddling tips, and it was off to the races from there. Our eager group of fisherman set up camp and after eating a quick lunch, they were out on the water, some fishing from canoes and some wading the banks around the campsite. Their efforts were especially rewarded after dinner, as we took advantage of this area's famous caddis hatch up until dark. On Saturday, we canoed back to the boat put in to be shuttled to the top of the West Outlet of the Kennebec River in search of smallmouth, brook trout, salmon, and creek chub. This trip produced many first-ever smallmouth on the fly, a fish heralded for the way it fights.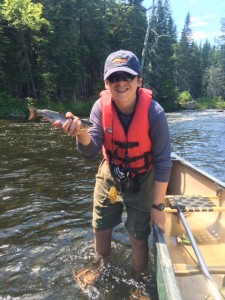 A first ever Brook Trout on the fly!" />
After exiting the backcountry, we arrived at Moosehead Family Campground to take some showers and play some ultimate frisbee. Our tightly contested game was followed up by a much needed stop at the local Greenville ice cream parlor, and after dinner we spent the evening fishing for brook trout in a local pond. Today was more of a transition day, as we have done some laundry but even then managed to fit in some fishing on the Roach River. Unfortunately our service project we had scheduled for this afternoon was canceled last minute because our park service employee became ill, but that did not stop us from doing some cleanup on the river this afternoon.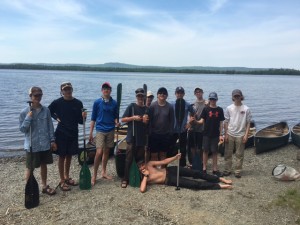 After exiting the backcountry we were all ready for some hot showers." />
Tomorrow brings yet another adventure. We will get an early jump tomorrow and drive to get ferried to Lakewood Camps, where we will spend the next two nights in rustic cabins fishing the river and tying flies. This trip has absolutely flown by, but we are looking forward to spending a few more days with our awesome group, who have immensely progressed in their fishing abilities in a very short amount of time.
Best Regards,
Will and crew