It is hard to believe tonight will be our final night spent with this awesome group here in NC, but we are lucky to to say we have had the best fishing/weather imaginable.
We started our trip with three fish filled days on the delayed harvest section of the West Fork of the Pigeon River. It was perfect place for our group to develop their fishing skills, and we all caught a lot of fish in the process!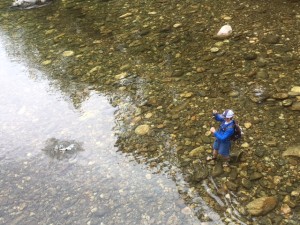 Mack pulling in one of many trout we landed on the West Fork of the Pigeon River." />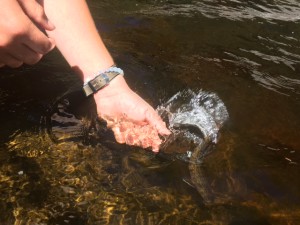 It is hard to beat the feeling of releasing a native fish as beautiful as a brook trout from a small mountain stream." />
Building on the skills we learned during the first three days we headed into the backcountry for three days of fishing on a small headwaters stream full of wild and native Southern Appalachian Brook Trout. We set up camp at the base of a waterfall and enjoyed some of the fastest paced fishing of the trip. Almost every good cast was rewarded with a hit from these eager trout, and by the end of the trip everyone had landed several of these stunningly beautiful trout.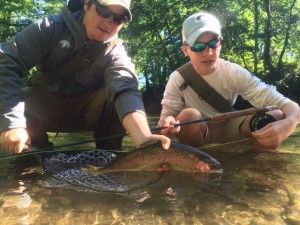 The first fish of the day on the Davidson ended being one of many over 16 inches. A good day to say the least!" />
The last few days of the trip were a definite highlight and were a true test of all the skills we learned. Fooling the trophy rainbows and browns of the private sections of the West Fork of the French Broad and Davidson Rivers took precision and patience. The amazing weather we have been having and subsequent low and clear water did not make things any easier. Getting the fish to bite was only half the challenge as these huge fish fought hard and tested the limits of our 5 and 6 x tippets. That didn't stop everyone in our group from catching a trophy trout, and almost all of them landing the biggest trout of their life.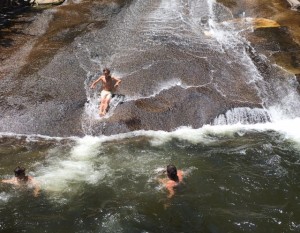 Sliding into 55 degree water is the perfect way to cool off after a long day in the heat." />
We wrapped up the trip today with a service project helping to clean up trash in some roadside campsites along a tiny headwaters stream, a refreshing plunge down sliding rock, and a delicious banquet dinner of some Carolina style BBQ. We are sad to see the trip coming to an end, but something tells me this won't be our last chance to fish with this awesome group of young men. To view some more photos from the NC Blue Ridge Adventure here is the link to the full album on our Flickr page. In the mean time, Edward and I are looking forward heading north for the Maine Woods Adventure and Expedition.
Tight Lines,
Will