Hello from Pebble Creek Campground!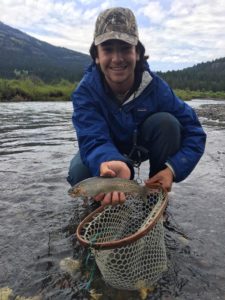 The Gardner River did not disappoint. Our skilled anglers pulled out a beautiful variety of fish, many of trophy qualities. The Gardner River is one of the most special rivers in Yellowstone, as it winds through a red rock canyon while holding Rainbows, Browns, Cutthroats, and Whitefish.
Our next day in Mammoth was a bit of a reorganization day, as we did some laundry and took showers. After we took care of some grocery shopping, we settled in to a nice burger restaurant in Gardiner, a meal which was greatly appreciated by all. The rest of the day was spent fishing the Gardner and enjoying the incredible scenery around us.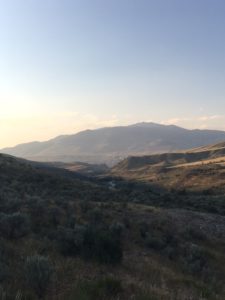 Early on Thursday, we drove to Pebble Creek campground, where will be camping until Sunday.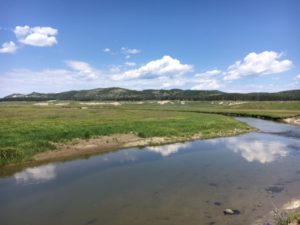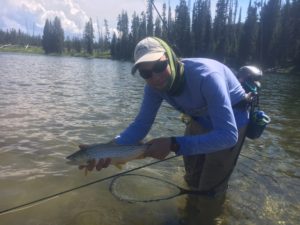 Our campsite is in the perfect location to explore some of the best fishing the park has to offer: the Lamar Valley. As the name indicates, our campsite is located directly on Pebble Creek, a small cutthroat stream that winds through an incredible rock faced canyon. Our anglers have been doing some exploring and have found some great holes to pull out seemingly fish after fish. Many of our guys have also been fishing the nearby Soda Butte Creek, which holds bigger but smarter fish. This has been fruitful for a good portion of our guys, with some fish pushing eighteen inches.
Yesterday, we had a blast in the first ever, annual Tower Creek fishing rodeo. Tower Creek is a tributary to the Yellowstone River, as it winds its way north and eventually scenically flows into the Yellowstone over tower falls. Our rodeo was a afternoon fishing extravaganza that ended in a trip to the Tower Creek General Store for a little refueling. The next few days will be spent in the Lamar Valley as well. We will be hiking to McBride Lake today, a lake known for its thriving insect life. This thriving insect life will hopefully turn into hungry fish and happy fishermen. After our few more nights in Pebble, we will be fishing Slough Creek, which is always a highlight of the trip. Slough is home what many call the best fishing in the park: large Cutthroats with beautiful surroundings. We could not be more excited to get back there with this experienced group of anglers. We will send out another update once we are out of the backcountry.
Tight Lines,
Edward, Cal, Max, and Crew