This morning we hiked out from the Rocky Mountain National Park backcountry for the last time. We are all sad to see the backpacking sections of our adventure to come to an end but eager to report some absolutely amazing fishing.
We woke up early on the morning of the 7th to make the drive from the east side of the park up and over the continental divide to the west side visitor center. Along the way we spotted several Big Horn Sheep, dozens of Elk, and countless Mule Deer. We arrived at the visitor center by 11, picked up our permits, and headed out to the trailhead. After a quick lunch at the trailhead we were on the trail before noon.
Our first day of hiking was the hardest of our trip. After a flat start we made followed the trail and river through 7 miles up gradual meadows separated by steep sections of water falls.  The warm up hike on the east side of the park really paid off as we made it to camp in under 3 hours. Once we arrived it did not take long for everyone to start catching some fish. Within 30minutes tents were set up and the first calls of "fish on" were echoing through the camp.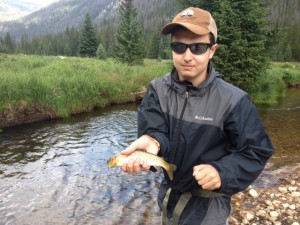 Micah with one of the literally hundreds of cutthroat we pulled out of the meadows near our campsite." />
Our hike had brought us above Cascade Falls on North Inlet creek where we caught nothing but native Colorado River Cutthroat (our second species of native cutthroat for the trip). From our campsite on the river we had perfect access to both small pocket water and meandering meadow oxbows. By dinner everyone had caught multiple fish with some people catching as many as 30 fish in just a few hours.
The next morning we split into two groups to maximize our space to fish on the river and nearby lakes. One group stayed down low in the valley to fish some big pools at the bottom of the waterfalls while the other group made the hike up to some high alpine lakes full of big fish. On the next day the groups switched spots.
One of the groups taking a break from catching cutthroat at the high alpine lake." />
The fishing was absolutely on fire! The lakes produced cutthroat after cutthroat in the 14-17inch range while the pools below the falls turned up countless brook trout, cutthroat trout, and even a 16 inch brown trout (the first I have ever seen in this section of river).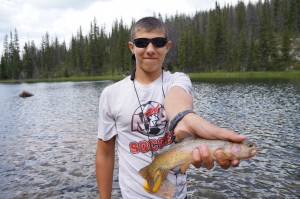 Matteo displaying one of his many catches up at the lake." />
We hiked out of the backcountry this morning as a group and after some showers and laundry we began preparing for the final few days of the trip. Tonight we are celebrating Jack's 15th birthday with a big dinner washed down by root beer floats. Tomorrow we head to the Colorado River for one of the highlights of the trip. There we will meet our guides from Orvis Endorsed Sunrise Anglers and embark on our overnight float of the Colorado River. Keep your fingers crossed for some good fishing during this truly amazing experience. We will check back in on the 13th to let you know how we did. Tight Lines, Will