Greetings from Rocky Mountain National Park! After two days in the front country of the park we are all excited to hit the trail in search of some Greenback Cutthroat.
We spent yesterday refining our fly fishing skills on the Big Thompson River. The meadow section of the river is just a short walk from our campsite and a perfect spot for our group of both first time and seasoned fly fishermen. Four days of rain before our arrival left the river high and fast but we all still managed to entice some fish to eat our flies. We didn't land them all but we brought some nice fish to hand.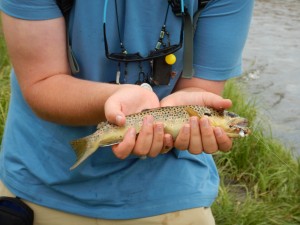 One of the nice brown and brook trout we pulled out of the Big Thompson" />
Today we will strap up our packs, lace up our boots, then head into the backcountry for the first time. Our four mile hike will bring us to the banks of Fern Lake where wee will spend the next three camped out on the banks of Fern Lake. From there we will fish Fern Lake and take day hikes to a few neighboring lakes. The Greenbacks that inhabit these lakes are a increasingly rare threatened species of Cutthroat Trout, Colorado's state fish, and magnificently beautiful. With the high water in the rivers we couldn't have picked a more perfect spot to spend three days fishing!
When we exit the backcountry on the 5th our entire group will be part of the lucky group of fly fishermen to have successfully landed several greenbacks! From there we will return to our campsite along the Big Thompson for more fishing and a day spent volunteering with the National Parks Service. Be sure to check back for another update then.
Tight Lines,
Will