It is hard to believe that our final trip of the summer, the Rocky Mountain Explorer, is entering it's final day. The last two weeks have been action packed and full of adventure. We earned the privilege of being able to say we caught Greenback Cutthroat in high alpine lakes.  We volunteered with the Rocky Mountain National Parks Trail Crew to help preserve the areas we explored. We hiked deep into the backcountry to find hungry Colorado River Cutthroat. Lastly, we can add an overnight float fishing trip on the Colorado River to our list of adventures.
On Tuesday morning we met our guides from Orvis Endorsed Sunrise Anglers for two days of floating and fishing on the Colorado River. The back country of Rocky Mountain National Park was our opportunity for high numbers of fish; this was our chance for huge fish! After running our shuttle, and packing our boats we pushed off around 9 am for our first day on the water. With two participants and one guide per boat, plus a gear boat full of food, tents, etc., we had a pretty impressive fleet.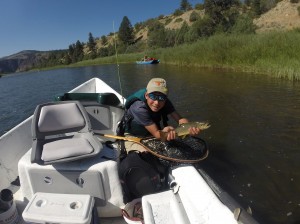 Xavier caught this beauty less than 100 yards from the boat ramp." />
After pushing off our group split up a bit. Each boat stopped along the way to get out and wade fish some prime spots. At lunch our group reconvened below the "eye of the needle" rapid. Every boat had caught fish including a new personal best 18" Brown Trout for Will S., but we were still searching for that 20" plus fish.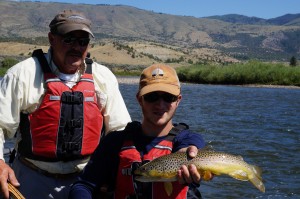 Will S. and his guide Shannon showing off Will's new personal best brown trout." />
We made it to our camp along the river by 4pm. That left us plenty of time to enjoy the hot springs and excellent wade fishing near our campsite before dinner. Exhausted from the long day on the water we feasted on chicken fajitas and peach cobbler made in the dutch oven before settling into our sleeping bags. Luckily for us, our night on the river happened to coincide with the Perseid meteor shower.  We all slept out around the campfire, falling asleep to a light show of shooting stars.
The next morning we enjoyed breakfast sandwiches with eggs and bacon before meeting back up with our guides for one more day on the water. As we left camp in the morning everybody was excited for the final day of fishing. In hopes of catching big fish several of the boats switched over to fishing streamers. It is hard work casting streamers all day, but the pay off can be well worth the effort. When we took off of the river later that day we had accomplished our goal of  hooking several fish over 20" but unfortunately, only landed a few. We fished long and hard finally taking off the river around 4:30pm. After making the drive to Silverthorne, where we set up camp for the final two days we enjoyed some pizza and quickly fell asleep.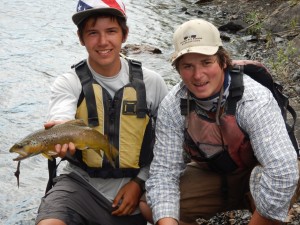 Jack landed this nice brown after it ate in the middle of the biggest rapid on the river." />
Today we played one final game of ultimate frisbee before getting showered up and ready for tonight's banquet dinner. At the Mint restaurant in downtown Silverthorne we coked our own steaks over a huge grill while sharing stories from our trip.  It is sad that our trip is coming to and end, but we were really lucky to have such a great group, cooperative weather, and awesome fishing!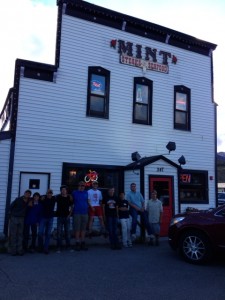 Lined up and ready to feast on steaks and an unlimited salad bar." />
Tight Lines,
Will