All is well after our first backcountry trip! Two nights in the famed Slough Creek backcountry was a memorable experience for all involved. After hiking in roughly 5 miles, we set up camp and got to fishing. Our campsite was located right on the creek and the kids were pulling in beautiful Yellowstone Cutthroat Trout left and right. We fished upstream and downstream for our campsite in perfect runs and deep pools. After a long day of hiking and fishing, we hit the tents around 9:45  in order to rest up for the next day's adventure.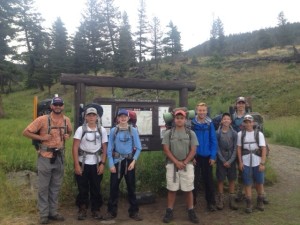 Ready to hit the trail" />
After waking around 8 am, we cooked some breakfast and got a couple casts in around camp. 11 o'clock came and we headed north, deeper into the backcountry to fish the third meadow and arguably the best fishing that Slough has to offer. We were not disappointed as the cuttys were sipping large grasshopper imitations. After fishing for several hours, we hiked the 3 to 4 miles back to camp. The cook crew whipped us up some backcountry burritos, while the rest of us went searching for firewood. After burning thru 3 hours worth of wood we hit the hay.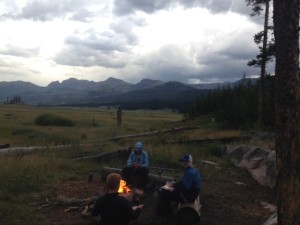 campfire vibes before bed" />
We woke bright and early to break down camp and hike out this morning. We set back out on the trail right at our designated time. After about two miles in, one of our guides stopped the group as we had walked up on 3 grizzlies! A mother and her two cubs were playing on the trail, so we took a wide berth around them and once we came back upon the trail the bears had gone. After we had safely passed the bears, we all agreed that it was a great encounter to experience. And to top it off, we saw a black bear as we exited the trail and got back to the van!
We are now in Gardiner, showered, clean clothes, and ready to eat a big cheeseburger.
Still smiling in Yellowstone
Tim, WJ, Ben and the Crew