Hello Everyone!
Its Will again to report that we have all made it out of our second backcountry trip safely and with many huge fish in the books and cameras. After our exit from the Bechler River backcountry we spent some time in Mammoth fishing the Gardner, with some determined anglers catching up to forty fish a day. We had originally planned to remain in the Mammoth region for two days, but by a stroke of luck, we were able to secure two extra days within the Slough Creek backcountry and add some time to the incredible fishing that the river always seems to have.
Quintin's group was the first into the wilderness, while Will and six fisherman stayed on the Gardner. The fishing on the first evening of Slough was exactly as we had hoped and expected. The water was crystal clear and the trophy fish easily spotted. On this first evening, members of Quintin's group were able to break the twenty inch mark, and while some fell slightly short, they were able to adjust on the next day.  For the rest of the backcounty the fishing was simply classic sight fishing with big dry flies, allowing everyone to hook into a few true trophy cutthroats.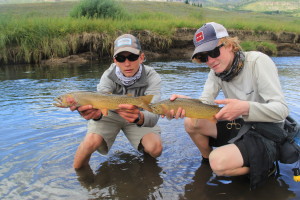 Trophy Yellowstone Cutthroat coming in pairs!" />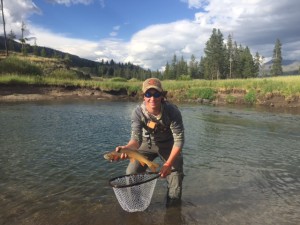 Watching this fish crush a streamer was fun to say the least, and set a new personal best for Mac." />
Meanwhile my group moved on to the Yellowstone watershed near Slough and fished famous water including the Lamar River, Pebble Creek, Soda Butte Creek, and, of course, the Yellowstone River. The weather was perfect allowing us to have some incredibly days of fishing that spanned from small stream dry fly angling, to more classic big river grass hopper casting.  After three days of this, the two groups switched, bringing Quintin and his six fisherman into the front country, and my group into Slough.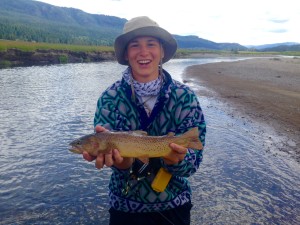 Daniel with another fat Slough Creek Cutty." />
My group ran into some rain up on Slough Creek but that did not deter the big fish from eating dries. After two days in the second meadow and one in the third we returned to the trail head to meet up with Quintin and his crew. Overall, it was 6 solid days of amazing fishing with some of the biggest fish LFFE has ever seen.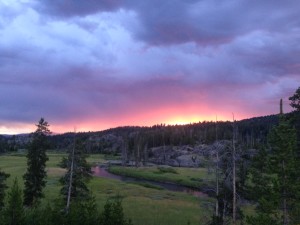 Sun setting on a beautiful day in the Slough Creek backcountry. It is hard to fine a more scenic place to catch trophy trout." />
After a stop at Old Faithful we exited Yellowstone for the last time today, but the adventure is not over. This afternoon we met our guides for an adrenaline pumping whitewater rafting trip. You can view some pictures by searching Float-O-Graphs online. We were on Richard's 2pm trip with Barker Ewing Raft Company. The final few days will be as action packed as the rest. Tomorrow we meet the trails crew from Bridger Teton National Forest for a day of service work, and we follow that up with a full day of float fishing on the Snake with guides from World Cast Anglers. We will follow that up with a delicious banquet dinner and stories around the campfire. It is hard to believe our trip is coming to an end, but we are looking forward to the time we have remaining.
Tight Lines,
Will