It is hard to believe our Yellowstone Expedition has already reached the halfway point! Time flies when your catching fish! The last few days have been full of great fishing on the Gardner River, and the beginning of our Slough Creek backcountry expeditions, a definite highlight of the trip.
Our time in the front country has been busy to say the least. After showers and laundry we got right to fishing. Our campsite along the Gardner River made for a perfect base. The Gardner was running cold and clean and we were all able to catch brown, rainbow, and cutthroat trout up to 19 inches on stonefly nymphs and big foam hoppers.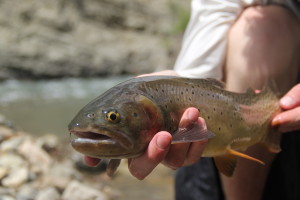 Cutthroat like this have been a regular occurrence." />
Big browns eating big flies. It doesn't get much better than that!" />
For those who needed a break from fishing, the Boiling River Hot Springs was just down stream. Nothing puts a cap on time in the backcountry like a soak in a natural hot spring.
Yesterday we received the report of awesome fishing up on Slough Creek from one of the other LFFE groups in Yellowstone right now. With that in mind we headed to the ranger station to pick up our permits, keeping our fingers crossed for the chance to add a third night to our backpacking trip. Permits on Slough are hard to come by, but we were lucky enough to be able to add a night to each of our trips. New permit in hand, half our group hit the trail early this morning in search of some Slough Creek monsters. They will spend 3 nights there before the second half of the group heads up to take their spots. Between the Slough Creek backcountry, and the Soda Butte/Lamar River frontcountry, the next six days are sure to be some of the best fishing of the trip!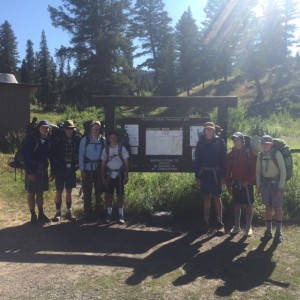 Half our group ready to take on some monster Slough Creek Cutthroat." />
Check back in on the 25th to see how it went!
Tight Lines,
Will, Quintin, & Crew