Hello from Grant Village Campsite,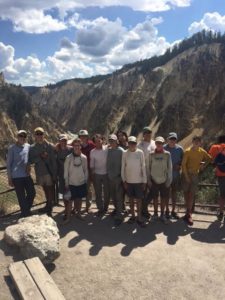 Our group came out of the backcountry yesterday, and the fishing in Slough Creek could not have been better. Each one of our experienced anglers caught trophy size Cutthroat trout, which will undoubtedly provide many stories and memories for years to come. The fishing got better as we got to more remote areas, as both of our backcountry groups went at least seven miles into the wilderness.
Today is a bit of a transition day for our group. Last night, we spent the night at Mammoth campground, a frontcountry campsite in the Northwest section of the park. We spent our time yesterday hanging around camp, refueling at the general store with some milkshakes, and playing some Spike Ball. We slept in this morning, slowly making our way south while stopping at some of Yellowstone's tourist attractions, most notably the Lower Falls of the Yellowstone River. This waterfall is widely known as one of the most picturesque places in the park. It has for sure been a day well spent.
Tomorrow we will head back to Jackson for the last few days of the trip. Once we arrive, we will eat a quick lunch and head to Barker Ewing Whitewater Rafting for a trip down the Snake River Canyon, one of the best stretches of Whitewater that this area of the country has to offer. After our trip down the canyon, Monday will be filled with giving back to the awesome community and area that we have fished for the past sixteen days, as our group will be cleaning up local trails for others to enjoy and use. The trip will wrap up with a float down the South Fork of the Snake River, known for its trophy fish. It will definitely be a fitting end to the trip.
It is hard to believe our time in Yellowstone is almost over. Cal, Max, and I have really enjoyed getting to fish with this already extremely experienced group of young anglers. We are looking forward to the last few days with our tight knit group. Another update will be sent out on the last day of the trip after we complete our few days in Jackson.
Tight Lines,
Edward, Cal, Max, and crew