The Blue Ridge Adventure is flying by! We spent yesterday volunteering with Trout Unlimited to help clean up some of the campsites along a stretch of small mountain streams that support native brook trout. After we built up a good sweat we rewarded ourselves with a swim at "sliding rock", a natural waterslide that ends in a 8ft deep hole.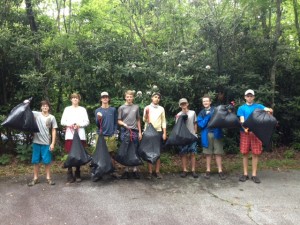 Just a fraction of the trash we helped clean up from some native brook trout streams." />
After a huge taco dinner we somehow managed to play a game of Ultimate Frisbee in a field near our campsite. We followed that up with some ice cream at Dolly's, a local favorite among all of the nearby camps. The long day tired us all out and we hit the hay early in anticipation for the action packed last few days of our trip.
It is hard to believe but today we will be entering the backcountry today for the last time. This time we will hike in along the South Mills River in Pisgah National Forest in search of wild Rainbow and Brown trout. Using all we learned on the first backcountry trip this section is shaping up to be even more successful then the last.
We will update you all on how it went when we exit the backcountry on the 30th.
Tight Lines!