It is hard to believe it, but the Blue Ridge Adventure is coming to an end. Our trip could not have ended on a higher note.
Yesterday we were scheduled to fish the upper Davidson River. Luckily for us we were giving the chance to fish some private water on the North Fork of the French Broad River. The weather could not have cooperated more perfectly with sun from 9am until we headed back into town at 5:30pm. Everyone caught multiple, wild fish, and some big rainbows up to 16 inches. When we got back to our campsite we celebrated an amazing day on the water with some delicious BBQ.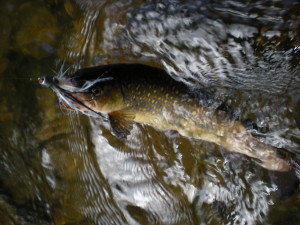 A beautiful wild brookie from the North Fork of the French Broad." />
This morning we woke up with anticipation for our final day on the water. After a quick breakfast we met our guides from Davidson River Outfitters and we were the water by 9am. A light rain the night before left the water cold and conditions perfect for catching big fish. Using all we had learned in the last nine days we were able to catch fish on everything from hoppers to nymphs and streamers. The 20" plus fish that broke us off on day one still proved hard to land, but we hooked our fair share of huge trout. We fished hard from 9am until 5pm and by the days end we had landed a few of those fish in the 18"-22" inch range.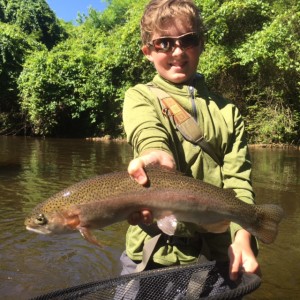 Another healthy rainbow in the 18″-20″ range." />
When we were done on the river we headed out for our banquet dinner and then back to the campsite to finish out the trip with an ultimate frisbee championship. It is amazing how much everyone has grown as fly fishermen and bonded with each other in only ten days. Hopefully everyone will take home with them a new arsenal of fishing knowledge they can utilize on their own home water as well as sense of stewardship for these last truly wild and beautiful places we have had the opportunity to explore.
Thanks for the great trip!
Will